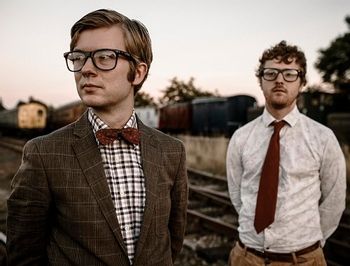 Inform. Educate. Entertain.
Public Service Broadcasting are a London-based electronic dance-rock duo consisting of J. Willgoose Esq. and Wrigglesworth. The two are known for their prominent use of samples from old public information films, archival footage and propaganda material in place of vocals, with Willgoose stating that, "singing is never going to work. I'm not going to be happy with it, I'm not going to be comfortable playing it to other people."
Not related to the Public Broadcasting Service. You'd want PBS for that.
---
Discography:
Inform-Educate-Entertain (2013)
The Race for Space (2015)
Every Valley (2017)
Bright Magic (2021)
---
Public Service Broadcasting contains examples of: