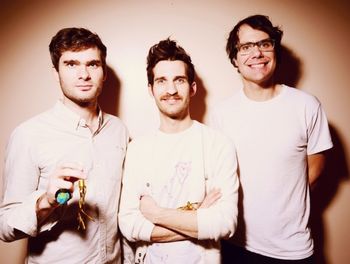 Pretty & Nice were an indie pop band based in Boston, known for their unique, new wave-influenced sound. They were active from 2005 to 2014, when they announced an indefinite hiatus.
The band began as the project of Holden Lewis, accompanied by an ever-changing lineup. With help from producer Jeremy Mendicino, the band completed their debut, "Pink & Blue" in 2006, which set the scene for what was to come with its catchy melodies and experimental production techniques. This was followed by the EP "Blue & Blue", mostly containing remixes of songs from their debut.
Their sophomore LP, "Get Young" was released in 2008 on the Sub Pop subsidiary Hardly Art. By this time, the band was steadily gaining traction and Jeremy had become a full time member, contributing to vocals, songwriting and instrumentation. Armed with the single "Tora Tora Tora" and a spot at South by Southwest 2009, the band were on the brink of being the next big thing, but failed to follow up with a second LP quickly enough.
2012 saw the release of the EP "US YOU ALL WE" on the smaller label Equal Vision, which mostly abandoned their dance-punk sound in favor of a more ambiguous indie pop sound. This sound was perfected with their third and final LP, "Golden Rules for Golden People", featuring bassist Roger Lussier who completed the final incarnation of the lineup.
Feeling that it was "just time for a breather", the band split up to work on their own projects in 2014. Their final release was "Infinitely Forever", an EP containing two new songs and several remixes.
---
Pretty & Nice contains examples of the following tropes:
---
"'That's it, that's it, and everything you need, you get"