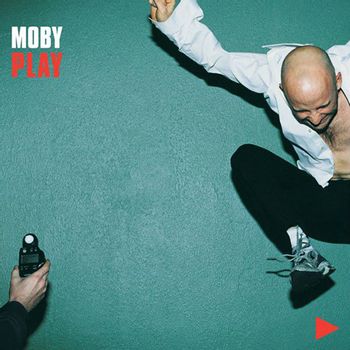 Play is the fifth studio album by Electronic Music artist Moby, released in 1999. This was the album that not only saved Moby's career but propelled him into superstardom.
Three years prior, he had released Animal Rights, an Out-of-Genre Experience that saw him experimenting with hardcore punk, alternative rock, and ambient music. (This was due to a number of reasons, namely his frustrations with the declining rave scene and the public's dismissal of his electronic music.) He was ridiculed and mocked the world over, and the disastrous reception led to Moby considering quitting music altogether.
Luckily, the next album he released just so happened to be Play.
An unexpected sleeper hit, it went from selling only six thousand copies in its first week to one hundred fifty thousand per week eleven months later. It has since sold 12 million copies, and it remains the best-selling album of electronically-produced dance music of all time.
A good portion of its success was its then-revolutionary promotion method: in response to getting next to zero radio play, every single song off of Play was licensed for use in advertising, films, and television. Not only did several dozen countries license songs, but many of them licensed multiple songs for use, making Moby's sound a global ubiquity, which in retrospect would come back to bite him later when his albums from the 2000s were not as well received (and partly considered retreads of this album's formula). Regardless, Play was Moby's breakout album and is considered to be his best.
Critics have noted that its influential electronic instrumentals and heavy sampling of folk, roots and blues music, both revolutionary ideas in electronica at the time, are now recognized as well-worn staples of the genre.
It is listed as #341 on both versions of Rolling Stone's "500 best albums of all time" list. A second album, Play: The B Sides, was released in conjunction to the core album the following year, highlighting Moby's diverse style.
---
Play:
"Honey" (3:27)
"Find My Baby" (3:58)
"Porcelain" (4:01)
"Why Does My Heart Feel So Bad?" (4:23)
"South Side" (3:48)
"Rushing" (2:58)
"Bodyrock" (3:34)
"Natural Blues" (4:12)
"Machete" (3:36)
"7" (1:00)
"Run On" (3:44)
"Down Slow" (1:32)
"If Things Were Perfect" (4:16)
"Everloving" (3:24)
"Inside" (4:46)
"Guitar Flute & String" (2:07)
"The Sky Is Broken" (4:16)
"My Weakness" (3:37)
---
Play: The B Sides
"Flower" (3:25)
"Sunday" (5:03)
"Memory Gospel" (6:42)
"Whispering Wind" (6:02)
"Summer" (5:58)
"Spirit" (4:08)
"Flying Foxes" (6:16)
"Sunspot" (6:49)
"Flying Over the Dateline" (4:47)
"Running" (7:05)
"The Sun Never Stops Setting" (4:19)
---
Ooh, lawdy now, tropin' so hard...
---