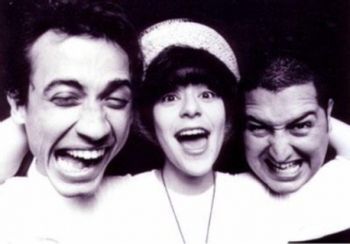 "Pato Fu has a career that gives us an alibi for doing whatever we want. If we wanted to make a disc of country music it wouldn't be so scary. We have songs that go through that, then it wouldn't be so absurd. But we will not do that."
—John Ulhoa
"It's better to be the largest independent band from Brazil instead of be the smallest mainstream band."
—Fernanda Takai
When a student of Public Relations joins two friends who owned a guitar shop to play Alternative Rock, the result is, according to Time magazine, one of the ten best bands on the planet
.
Founded in Belo Horizonte, Brazil, 1992 and named after a Garfield comic strip, in which he practices a martial art called " Duck! Cat Fu", Pato Fu has a sound that goes from the heavier rock to ballads, sung in the gentle voice of lead singer Fernanda Takai. Usually with witty lyrics, full of pop references, written by the guitarist John Ulhoa or the bass player Ricardo Koctus, the only sure thing about the band's style is that... well ... it's awesome.
Other artists joined the group over the years, as the percussionist Xande Tamietti and the keyboardist Lulu Camargo, who remain in the band today, and Dudu Tsuda, who left in 2009.
The albums released by Pato Fu so far are:
Rotomusic de Liquidificapum (1993)
Gol de Quem? (1994) - "Who Scored the Goal?" (a Brazilian slang which roughly means "What's going on here?")
Tem Mas Acabou (1996) - "We Have It But We're Out of It"
Televisão de Cachorro (1998) - "Dog TV" (the name is another popular Brazilian phrase, meaning an industrial oven in which chicken are roasted)
Isopor (1999) - "Styrofoam"
Ruído Rosa (2001) - "Pink Noise" (The Portuguese name is a Stealth Pun on Pink Floyd, as "floyd" translates as "fluido", which rhymes with "ruído")
MTV Ao Vivo (2002) - "MTV Live"
Toda Cura Para Todo Mal (2005) - "Every Cure For Every Illness"
Daqui Pro Futuro (2007) - "From Here To The Future"
Música de Brinquedo (2010) - "Toy Music"
Não Pare pra Pensar (2014) - "Don't Stop to Think"
Música De Brinquedo 2 (2017)
Works on video:
MTV ao Vivo Pato Fu: no Museu de Arte da Pampulha (2002) - "MTV Live: on the Pampulha's Art Museum"
Pato Fu Video Clipes (2004) - "Pato Fu Music Videos"
Toda Cura Para Todo Mal (2007) - "Every Cure For Every Disease"
Extra! Extra! (2009) - "Extra! Extra!"
Música de Brinquedo Ao Vivo (2010) - "Toy Music Live"
---
Pato Fu has examples of:
---