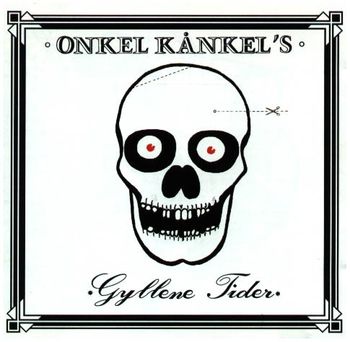 Onkel Kånkel and His Kånkelbär note Uncle Dingleberry and his Dingleberries is an infamous Swedish music project which existed between 1979 and 2009. How to describe it... well, think of an up to eleven mix between the lyrics of The Mentors, Anal Cunt, GG Allin and Frank Zappa at his most juvenile, with a musical backdrop rooted in the most poorly produced, lo-fi, dank-ass Punk Rock you can think of, but occasionally branching out into (equally poor) attempts at everything from Hip-Hop to Disco to Country. Last but not least, filter all of this through a rosy-cheeked 1940's aesthetic. Does this sound good? Well, then check into your nearest Bedlam House for your injections, right away.
There's an argument to be made for Onkel Kånkel being "Acceptable Targets - The Band". They made fun of EVERYONE but had a certain soft spot for Homosexuals, the mentally and physically handicapped, Those Wacky Nazis (laughing with them of course!), and Pedophilia. There's a peculiar old-timey charm to most of Onkel Kånkels lyrics, which was deliberate. Another famous trait of Onkel Kånkels lyrics is constant name-dropping of old school Swedish celebrities like Martin Jung
and Lennart Hyland
. For those unfamiliar, it would be like singing about Mr Rogers and Bob Hope eating shit and raping children.
The person behind all of this insanity was a man named Håkan Florå. He pulled off the impressive feat of not blowing his cover for the entire time that the band was active. There were rumors and "opens secrets" that Håkan and Onkel were one and the same, but mostly he stayed anonymous up until his death of a heart attack in 2009. Onkel Kånkel made two live appearances, one in 1993 where they were joined on stage by a developmentally disabled man who told jokes and danced, and another one in 2002.
Famous fans include Oscar Dronjak of Hammerfall, Peter Tätgren of Hypocrisy and Ebbot Lundgren of The Soundtrack of Our Lives
.
---
Tropes:
---