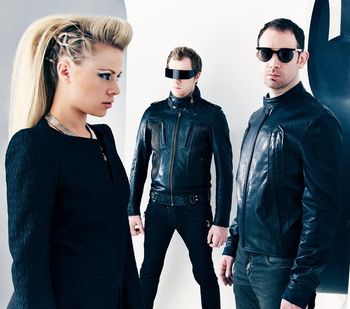 Nero is an award-winning British Electronic Music band composed of musicians/composers/DJs Daniel Stephens and Joseph Ray, and vocalist Alana Stephens (née Watson). The band is well-known for their melodic approach to heavy electronic music genres, especially drum 'n' bass, electro house, and dubstep, as well as for their infusion of elements borrowed from '80s Synth-Pop, Classical Music and hard trance. They have achieved cult status both in the UK and in electronic music scenes around the world.
The band first came together in 1999, when musicians Daniel Stephens and Joe Ray began making Electronic Music during their free time. Two years later, they began working together in a studio in Stephens' bedroom. Their debut release was "Space 2001", which was included in a three-piece vinyl LP on Reformed Recordings in 2004. Their first dubstep release was "This Way".
They made a living as musicians by making remixes, one of their most well-known being their remix of "Blinded by the Lights" by electronic hip hop project The Streets, which received significant radio airplay and was even played by other electronic music producers such as dubstep codifier Skream, breakbeat superstars Chase & Status - who later signed them to their label MTA Records, world's former number 1 DJ Tiesto and moombahton legend/self-proclaimed "Twerk King" Diplo - who is, take note, producer of the critically acclaimed "Paper Planes".
In 2010, the band released their breakthrough hit "Innocence" to critical acclaim. The song was nominated for the BBC's Sound of 2011 poll. Shortly afterward, they released their follow-up "Me and You", which reached number 15 on the UK Singles Chart, and at number one on the independent releases chart.
The band managed to top themselves off with their debut album Welcome Reality, released in August 2011. The album, considered as one of the best modern Electronic Music releases, was lauded by critics and received universal acclaim from fans, ultimately cementing their place as one of the finest Electronic Music acts in recent years. Songs from the album have been featured in many media works, most notably Borderlands 2, Saints Row IV, Forza Horizon, Need for Speed: Most Wanted (2012), Asphalt 8: Airborne, the 2012 reboot of SSX, Gran Turismo 6, and Sonic & All-Stars Racing Transformed. The remix of one of the album's songs, "Promises", co-produced by Skrillex and Nero themselves, went on to win "Best Non-Classical Remixed Recording" in the 55th Grammy Awards.
In 2013, the group has also done a brand new song, "Into The Past", for the original soundtrack of the 2013 movie readaptation of The Great Gatsby.
At the beginning of 2014, they have posted on their Soundcloud account a 28-minute long ambient track, which, per Word of God, is actually a 3-minute long track played on loop. They also said that their sophomore album will come out sometime in that year. A few months later, their new single "Satisfy" was released to warm critical reception, and, once again, completely rave fan reactions. The song has been included into the licensed score of Forza Horizon 2. Despite little other information being unveiled by the band, MTA Records has reassured that their second album was being mastered. Called Between II Worlds, it will be released on August 28th of this year; its second single, "The Thrill", was released on March 20th, and received once again substantial praise from the EDM fandom; the title track was subsequently released as the third single on April 10th. Unfortunately, it has been recently announced by the band itself that the album's release has been pushed back to September 11 of the same year.
Not to be confused with the Belgian comic strip of the same name or the real life Roman Emperor Nero.
Discography
Welcome Reality (2011)
Between II Worlds (2015)
This band provides examples of the following tropes:
---