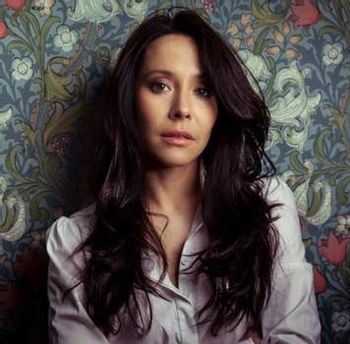 If love is a drug I guess we're all sober,
If hope is a song I guess it's all over,
How to have faith when faith is a crime?
I don't want to die...
If God's on our side then God is a joker,
Asleep on the job his children fall over,
Running out through the door and straight to the sky,
I don't want to die...
"Everbody's Gone to War"
Nerina Natasha Georgina Pallot (pronounced pa-low with a silent "t") (born 26 April 1974) is a British pop Singer-Songwriter who originated from Jersey in the Channel Islands but is currently based in London. She is best known for her hit song "Sophia" from her second album Fires which came out in 2005, though as of 2017, she has released 4 more LPs and over 15 EPs since.
Her musical style is either acoustic guitar or piano-based pop music, with lyrics that tend to include various literary references owing to her degree in Literature, which she earned in 2009, around which time she released her aptly-titled third album The Graduate.
Aside from being a very prolific songwriter herself (best exemplified during 2014 wherein she devoted herself to releasing a 5-song EP for every single month of that year), she has also written many songs for various artists, the most famous of which was the song "Aphrodite" for Kylie Minogue, which became the title track of Kylie's 2010 album. Said album included another song originally by Nerina, "Better Than Today."
---
Discography
Dear Frustrated Superstar (2001)
Fires (2005)
The Graduate (2009)
Buckminster Fuller (EP) (2009)
Junebug (EP) (2009)
Skeleton Key (EP) (2010)
Year of the Wolf (2011)
Yes, December (EP) (2011)
Lonely Valentine Club (EP) (2013)
We Made It Through Another Year (EP) (2013)
2014: The Year of EPs

The Hold Tight
We Should Break Up
When the Morning Stars Sang Together
Free As You Wanna Be
Grand Union
When I Grow Up
Rousseau
Little Bull
Small Things
Spirit Walks
Live at the Union Chapel
Winter Rooms

The Sound and the Fury (2015)
Stay Lucky (2017)
---
Nerina and her music provide examples of the following tropes:
---