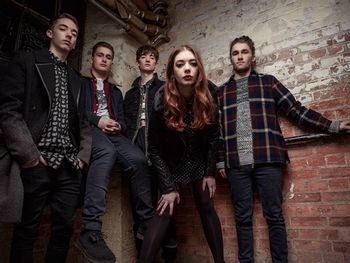 Marmozets are an English rock band from Bingley. They've been gaining traction as an up-and-coming bands on scene after getting signed to Roadrunner Records in 2013, however they've been around since 2007 back when they were in school. Frontwoman Becca Macintyre is known for screaming her head off in some songs, while others are entirely clean.
They've done extensive touring of both Europe and North America, and have supported acts such as Kasabian and Muse. In 2014 they released their debut album The Weird and Wonderful Marmozets to mostly positive reviews.
Discography
Marmozets (EP) (2013)
The Weird and Wonderful Marmozets (2014)
Knowing What You Know Now (2018)
Members
Becca Macintyre — Lead vocals
Sam Macintyre — Guitar
Josh Macintyre — Drums
Jack Bottomley — Guitar
Will Bottomley — Bass
You may have noticed that they're a Band of Relatives, only in an interesting twist — they're two different sets of siblings.
Move, Shake, Tropes
---