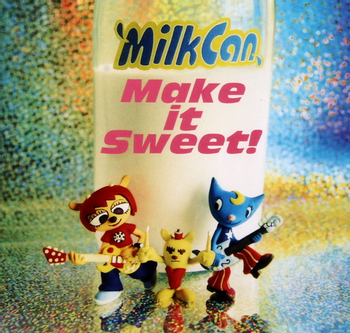 We're the girls from around the block
Gorgeous, sweet, and we love to rock.
—"WE ARE MILKCAN!"
Make it Sweet!, released in 1999, is the sole release from MilkCan, a virtual band created for the video game Um Jammer Lammy. The album was released through Sony Records initially only in Japan due to poor sales of the game outside of its home country, but it was later rereleased digitally internationally.
The album contains nearly all of the songs from the main story of the game, sung (with few exceptions) by lead singer Katy Kat, on a couple of occasions also featuring the teachers who originally sang them.
This album serves as one of three soundtracks released for Um Jammer Lammy, in addition to an official soundtrack with all of the game's music in its original form and I Scream!
, which consists of remixes of PaRappa the Rapper's versions of the songs from Lammy.
Tracklist:
"Let's Jam Together" – 0:14
"KEEP YOUR HEAD UP!!" – 3:09
"FRIGHT FLIGHT!!" – 2:46
"BABY BABY!!" – 2:19
"FIRE FIRE!!" – 2:59
"PJ Berri Jam" – 0:36
"BIRTH SONG" – 1:58
"THEME OF RAMMY" – 2:14
"CASINO IN MY HAIR" – 1:27
"Radio Signal Jam" – 0:59
"TASTE OF TERIYAKI" – 3:53
"POWER OFF! POWER ON!" – 2:46
"WE ARE MILKCAN!" – 4:17
"Jam Chin" – 0:19
"GOT TO MOVE! (Millennium Girl)" – 3:42
Dojo, casino, it's all in the tropes:
---
Wasn't that a groove?