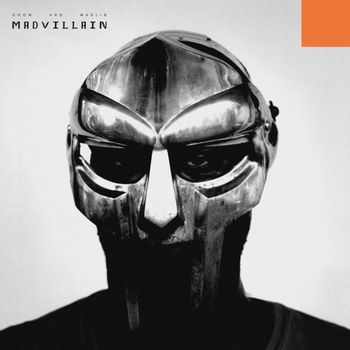 As luck would have it, one of America's two most powerful villains of the next decade is turned loose to strike terror into the hearts of men; who shock women into uncontrolled hysteria. The villains themselves were ultimately responsible for much of the popularity. Audiences loved to hate. The importance of the villain was not overlooked, of course one of the worst of all was Madvillain. They had no code of ethics.
— "The Illest Villains"
Madvillainy is the debut album by American Alternative Hip Hop duo Madvillain (MF DOOM as MC and Madlib as producer and occasional rapper), released on March 23, 2004 on Stones Throw Records. It continues DOOM's trademark interests in playing with themes of supervillainy in hip-hop while introducing the backdrop of Madlib's eclectic, sample-heavy beats, both of which combine to create an overarching aesthetic that runs throughout the album, centered by the dastardly misadventures of the "Madvillain" character.
While not the most commercially successful album (it peaked at number 179 on the US Billboard 200, admittedly a fair effort for an indie rap release), Madvillainy was critically adored, even having praises sung by publications not usually receptive to hip-hop such as The New Yorker. Now, it is considered one of the greatest rap albums of its time and of all time, and DOOM's writing, Madlib's production, and the radio-unfriendly atmosphere of the album have all greatly influenced newer generations of musicians. It is currently ranked at No. 365 on Rolling Stone's list of the 500 greatest albums of all time.
As it would then turn out, Madvillainy was unparalleled in more ways than one, as DOOM and Madlib never released an official sequel in the years since it was released. While both went on record with differing rationalesnote Madlib claimed that a lack of communication on DOOM's part delayed progress on the sequel, while DOOM claimed that the two have made new material that will only be released at the right time, the closest they got was a remix album Madlib put out in 2008, supposedly because he couldn't wait any longer for DOOM to record new verses. While it was called Madvillainy 2, the album eschewed the original's narrative aesthetic for completely new production, and although its reception was positive, it was nowhere near as enthusiastic or unanimous as that of the original. While hopes faltered indefinitely, the announcement of DOOM's death on October 31st, 2020 seemingly drove the final nail in the Madvillainy sequel's coffin...
...that was, until January 2021, when Stones Throw founder and CEO Peanut Butter Wolf revealed
that DOOM had almost finished recording a true Madvillainy sequel prior to his death (by "almost", we mean "85% done" according to PBW), and Stones Throw got the greenlight to release it posthumously, but is not sure when or how it will be released.
---
Tracklist:
"The Illest Villains" (1:55)
"Accordion" (1:59)
"Meat Grinder" (2:12)
"Bistro" (1:08)
"Raid"

(ft. MED aka Medaphoar)

(2:31)
"America's Most Blunted"

(ft. Lord Quas)

(3:54)
"Sickfit" (1:22)
"Rainbows" (2:52)
"Curls" (1:36)
"Do Not Fire!" (0:53)
"Money Folder (3:03)
"Shadows of Tomorrow"

(Performed by Madlib ft. Lord Quas)

(2:36)
"Operation Lifesaver aka Mint Test" (1:30)
"Figaro" (2:26)
"Hardcore Hustle"

(ft. Wildchild)

(1:22)
"Strange Ways" (1:52)
"Fancy Clown" (1:56)
"Eye"

(ft. Stacy Epps)

(1:58)
"Supervillain Theme" (0:53)
"All Caps" (2:10)
"Great Day" (2:17)
"Rhinestone Cowboy" (4:02)
---
Tropes; more accurately, the dark side of our beings:
---
Curses, we's truly the worsest
With enough rhymes to spread throughout the boundless universes
Let the beat blast, she told him wear the mask
He said "You bet your sweet ass"
It's made of fine chrome alloy
Find him on the grind, he's the rhinestone cowboy.
---