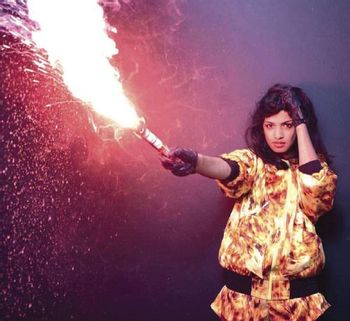 Mathangi "Maya" Arulpragasam MBE (born 18 July 1975), better known as M.I.A., is an English singer and rapper, known for her politically-themed lyrics and eclectic sound, combining elements of alternative, dance, electronic, hip hop and world music with electronic instruments and samples.
As a baby, M.I.A. moved with her family to their native Sri Lanka, where her father became increasingly politically active in militant activities. As the Sri Lankan Civil War escalated, the rest of the family was forced to flee as refugees, first to India and then the United Kingdom. "M.I.A." ("Missing in Action") references both her London neighborhood, Acton, and her politically tumultuous youth.
Being no stranger to politics, M.I.A. wanted to spread political topics through her dance songs. Topics in her music include identity politics, immigration, indie culture, the Internet, popular culture, poverty, revolution, war and the working class.
---
Discography:
Piracy Funds Terrorism, Volume 1 (2004; Mixtape)
Arular (2005)
Kala (2007)
How Many Votes Fix Mix EP (2008)
MA YA (2010)
Vicki Leekx (2011; Mixtape)
Mathangi (2013)
AIM (2016)
MATA (2022)
---
Tropes related to M.I.A.:
Boastful Rap:

M.I.A., Third World democracy. I got more records than the KGB.

Bourgeois Bohemian: The cause of some contention around the release of /\/\ /\ Y /\. She got a not entirely underserved reputation for promoting left-wing causes and rising up against The Man despite the fact she was signed to major label Interscope, was engaged to the heir to the Bronfman fortune, lives in Brentwood and modeled for Marc Jacobs.
Call-Back: One of the redheaded boys from the "Born Free" video is seen near the end of the "Bad Girls" video.

There's a song on Arular called "10 Dollar" and a song on Kala called "20 Dollar".

Censored for Comedy: "Paper Planes" had its famous sound effects censored on the radio and on TV, leaving us with "All I wanna do is

bang bang bang bang

and a

*click* *kaching*

and take your money," which can be interpreted as being strikingly sexual.
Content Warning: The music video for "Born Free" starts off with one due to violent images.
Cool Shades: She wears them on the cover of Kala.
Cover Version: "It Takes a Muscle" was originally a song by Spectral Display.
Did You Just Flip Off Cthulhu?: In her guest performance at the 2012 NFL Super Bowl with Madonna, she very visibly flipped off the camera. Naturally, the executives were not pleased with this and literally sued her for $16.6 million. She chose to settle.
Disappeared Dad: Due to her father's revolutionary activities in Sri Lanka and that he was absent for her entire childhood, Maya maintains a difficult relationship with him. However, she did dedicate her debut record to him, but he sent her a short email telling her to change its title before mentioning how proud he was of her (she didn't change it).
Dual-Meaning Chorus: "Lovalot"'s chorus is this, simply by the way M.I.A. says it. While the lyric is "I really love a lot", she doesn't pronounce the 't' in 'lot'. Given that the song's about terrorists...yeah.
Everything Is an Instrument: Drills are used as percussion on "Steppin Up." M.I.A. originally wanted drills and other power tools to be the only instruments in the song, but decided that it was too experimental.

For the song "Hussel", MIA used sounds created by fishermen in the Indian state of Kerala to form the trajectory of the song. She incorporated synthetic beats to make the song sound more watery.

Genre Mashup: M.I.A.'s style is a combination of alternative hip-hop, alternative dance, reggae, world, dance hall, electroclash, baile funk, Tamil film music, grime, rave, punk rock, and as of MAYA, industrial. She calls her genre of music "other".
Gorn: The music video for "Born Free" ends on a rather violent note, as the audience gets to see the graphic effects of a land mine on the human body. And in slow motion, by the way...
Hell Is That Noise: M.I.A.'s performance of "Born Free" on The Late Show With David Letterman (featuring Martin Rev from Suicide) was so chaotic that it left Dave very visibly flustered. Brace yourself.
Hide Your Pregnancy: Defied Trope. She still performed at The Grammys with Kanye West, Jay-Z, and other famous rappers while forty weeks pregnant with her son (as in, on the day of her due date).

However, she could not perform at the Oscars since by then, her son had just been born.

Lucky Charms Title: /\/\/\Y/\, the official title of MAYA.
Lyrical Dissonance: 95% of her entire discography. Whether it's about child prostitution, ethnic conflicts, terrorism, or simply going out to raves, her songs have the ability to make one dance AND think.
New Sound Album: MAYA was more industrial and overall harsher than her previous albums. She also sang (instead of rapped) some songs on the album. This caused a bit of a broken base among fans.
Protest Song: "Bad Girls" is a thinly veiled critique on how women are marginalized in various Middle Eastern countries, and are not allowed to drive cars without the presence of a male.
Punny Name:

Her Stage Name, along with invoking the nickname "Maya" was a reference to how "I was living in Acton looking for my cousin missing in action." (namely during the Sri Lanka civil war)
Her album Vicki Leekx is a pun on Wiki Leaks.

Redheaded Stepchild: The music video for "Born Free" uses a genocide against redheads as a metaphor for the crimes against humanity committed in Sri Lanka, in particular against the Tamils. It opens with a SWAT team raiding an apartment to capture one redheaded young man and everything goes downward from there.
Real Life Writes the Plot: The sound effects and overall themes in "Paper Planes" and other songs such as "20 Dollar" come directly from her experiences as a political refugee. When criticized for using the gunshots in her work, she had this to say:

Because she had problems with entering the US, she was unable to work with US rapper Timbaland, who is known for producing radio-friendly singles, and instead traveled the world to incorporate foreign themes into her music. Kala (and her career) very well could have turned out much differently had she been allowed into the country.

Sampling:

"Paper Planes" is based on a sample from The Clash's "Straight to Hell".
"Bucky Done Gun" has a twofer, sampling a funk carioca song which in turn sampled the horns from "Gonna Fly Now".

Self-Titled Album: She hasn't made an album with the title M.I.A. but Mathangi is her real name and MAYA is an abbreviation of it.
Sensory Abuse: The cover to Matangi can be very disorienting to look at.
Soapbox Sadie: M.I.A. tends to come off as one since her pet issue is to call for international scrutiny into the Sri Lankan civil war and the possibility that genocide occurred in the region. Western countries and celebrities tend to keep quiet to avoid distressing Southeast Asian countries, and M.I.A. has been called out for mocking their hypocrisy numerous times.
Sound-Effect Bleep: "ALL I WANNA DO IS *BANG* *BANG* *BANG* *BANG* AND *click* *ka-CHING*AND TAKE YOUR MO-NAY." In layman's terms, it's describing a mugging. Oddly enough, the sound effects themselves were evidently too suggestive for some radio stations: one censored version uses entirely different ones.

The DFA remix of the song replaced the sound effect with drum machine hits.

Stealth Parody: "Paper Planes." It appears to sound like a typical rap artist boasting his (or, in this case, her) monetary and violent achievements... until the artist revealed it's really about

taxi drivers

.
Stylistic Suck: The video for XXXO intentionally mimicked the sort of bizarre, glittery merging of little-girl imagery and sexualization that happens on teens' social networking pages. It will give any design student nightmares.

Not to mention the artwork for her music (especially during the MAYA era), which is very much this trope as well.

Theme Naming: Arular was named after the political code name her father used in his involvement with Sri Lankan Tamil militant groups. Kala was named after her mother. MAYA and Mathangi were named after herself.
Would Hurt a Child: The "Born Free" music video features graphic scenes of one child being shot and one teenager being blown up by a land mine at the hands of an oppressive police force.
Your Terrorists Are Our Freedom Fighters: Maya continues to maintain her loyalty to the Tamil freedom fighters, despite the atrocities committed by both sides during the Sri Lankan Civil War. This has led to various celebrities, not the least of whom Oprah Winfrey, criticizing her for supporting terrorists. She maintains her Tamil nationalism nonetheless.
---