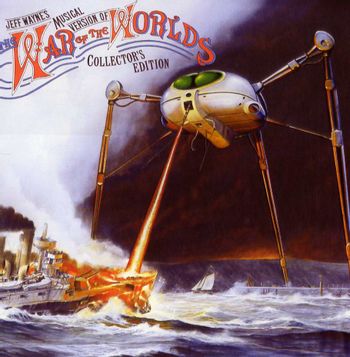 The chances of anything coming from Mars
Are a million to one, he said
The chances of anything coming from Mars
Are a million to one...
But still, they come!
Jeff Wayne's Musical Version of The War of the Worlds is a 1978 concept album by Jeff Wayne, retelling the story of The War of the Worlds by H. G. Wells. It was IMMENSELY popular around the world, selling millions of records (and still doing so today) and spawned multiple versions of the album, a computer game, a DVD, a 30th anniversary live tour including Alexis James, Rhydian from The X Factor, Jason Donovan, and Jennifer Ellison in the cast, and a 40th anniversary tour with Adam Garcia, Nathan James and Jason Donovan reprising his role as Nathaniel. There's also a large amount of merchandise available at the website
.
The latest addition is the 2012 Updated Re-release subtitled "The New Generation", with new versions of the songs, some new dialogue, and a new All-Star Cast. This too was accompanied by a live tour.
Tracklist
The Coming of the Martians
Side One
"The Eve of the War" (9:06)
"Horsell Common and The Heat Ray" (11:36)
Side Two
"The Artilleryman and The Fighting Machine" (10:36)
"Forever Autumn" (7:43)
"Thunder Child" (6:10)
The Earth Under the Martians
Side Three
"The Red Weed (Part 1)" (5:55)
"Parson Nathaniel" (1:45)
"The Spirit of Man" (9:52)
"The Red Weed (Part 2)" (6:51)
Side Four
"Brave New World" (12:13)
"Dead London" (8:37)
"Epilogue (Part 1)" (2:42)
"Epilogue (Part 2)" (2:02)
---
The Eve of the Tropes:
---
The stage show also provides examples of:
---
THE PROBLEM IS,
OF COURSE, THE HUMANS.