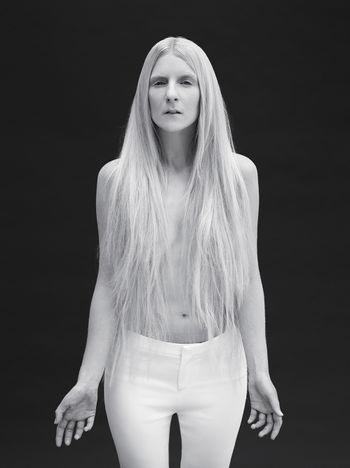 To whom it may concern.
iamamiwhoami
is a Sweden-based audiovisual dream pop band fronted by Jonna Lee and produced by her long-time producer Claes Björklund. Every song released has a visual component to it as well, available both on DVD and the band's YouTube channel; each release also leads directly into the next song. Short clips began appearing on Youtube on December 4, 2009, leading many to speculate that the then-anonymous project was being backed by The Knife, Goldfrapp, Trent Reznor or even Lady Gaga. A second arc of nine videos later appeared, chronicling the discovery and captivity of a mandragora (a mythical plant-based creature, here explored for its siren qualities) played by Lee. These were later released as the album bounty. Lee's identity wasn't revealed until the song "t", in which her face appeared unobscured for the first time.
A second album, kin, was released on June 11, 2012. Like bounty before it, each song off the album received a video, all of which were released on their YouTube channel bi-weekly up until the release of kin itself. kin's videos showcased Lee hunted by faceless, shaggy-furred creatures in a wide variety of landscapes. The previously digital-only collection bounty got a physical release a year later. Their third album BLUE followed suit, with the first single "fountain" released without warning in early 2014. iamamiwhoami also announced their involvement with two film designers, in a project called WAVE.
iamamiwhoami is wildly known for their evolving use of social media to spread their music. bounty's video series contained clues to a puzzle that was originally sent to an MTV blogger, as well as links to other videos on YouTube to allow fans to assemble a larger picture for themselves. YouTube user ShootUpTheStation was flown out to Sweden to take part in the concert / art film IN CONCERT, which was only broadcast once via streaming. Their first live concert was advertised via a phone number that featured an exclusive song. BLUE was partially funded by fans donating directly through the band's website, and CONCERT IN BLUE featured fan-submitted photos and videos in the second half of the performance. For the offline world, the band's videos have been sold as Le Film Artistique DVDs available with physical copies of their albums.
Discography:
bounty (2011; physical release in 2013)
kin (2012)
BLUE (2014)
CONCERT IN BLUE (2015)
---
Contains examples of:
---