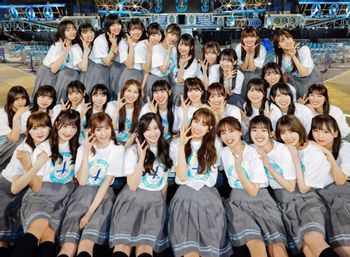 "Reach for the sky, poka poka kyun! You're not alone, jump high with friends, Hinatazaka46, hi~!"
Hinatazaka46 (Japanese: 日向坂46) is a Japanese idol group, established as Hiragana Keyakizaka46 (けやき坂46) on November 30, 2015 as a subgroup of Keyakizaka46 (now Sakurazaka46). On February 11, 2019, they were spun off from Keyakizaka46 into its own group within the Sakamichi Series. As of September 2022, they have 33 members from 4 generations, and their captain is Kumi Sasaki.
The group's many works outside music are described in the Franchise page.
You know these tropes can't stop loving you:
---