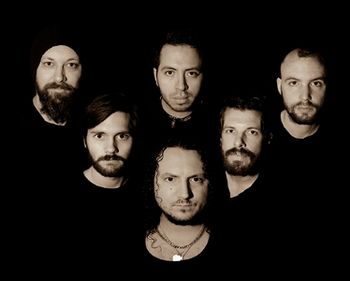 Influenced by:
Haken is a British Progressive Rock/Metal band formed in London in 2007 by To-Mera guitarist and keyboardist Richard Henshall and two of his school friends, Ross Jennings and Matthew Marshall. The band's albums have been met with critical acclaim, and they've achieved a high level of popularity within the Prog community.
A lot of their songs feature an intense level of instrumental and vocal virtuosity, philosophical lyrics, longer song lengths, and a generally quirky attitude. They gathered some attention to themselves with the help of their video for "Cockroach King", which features a muppet-themed parody of Bohemian Rhapsody's famous music video. They've garnered the respect of a few of the larger names in the Prog community, including Jordan Rudess and Mike Portnoy, who have both praised their music. The orchestral tribute group Symphonic Theater of Dreams is also currently making a symphonic tribute album to the band.
In 2014, the band released an EP titled Restoration containing updates of a select few songs from their demo, Enter the Fifth Dimension. Their sixth full studio album, Virus, will be released on July 24, 2020.
---
Discography:
Enter the 5th Dimension (2008 - Demo)
Aquarius (2010)
Visions (2011)
The Mountain (2013)
Restoration (2014 - EP)
Affinity (2016)
Vector (2018)
Virus (2020)
---
Current Members:
Ross Jennings - lead vocals (2007-)
Richard Henshall - guitars and keyboards (2007-)
Raymond Hearne - drums, tuba (2007-)
Charles Griffiths - guitars (2008-)
Diego Tejeida - keyboards (2008-)
Conner Green - bass (2014-)
Former Members:
Thomas MacLean - bass (2007-2013)
Matthew Marshall - guitar (2007-2008)
Peter Jones - keyboards (2007-2008)
---
Haken provides examples of the following tropes: