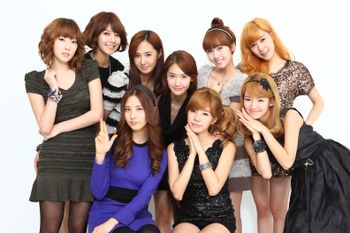 Girls' Generation, often abbreviated as SNSD (short for the romanization of their Korean name, So Nyeo Shi Dae) is a popular Korean Girl Group that started with nine members. The group was initially seen as something of a female answer to labelmates Super Junior, but has since gone on to become not only a unique and equally respected group in their own right but one of the biggest K-pop groups in the world.
Formed in 2007 by SM Entertainment, the group's current members are Taeyeon (the leader of the group during their rise to fame), Sunny, Yuri, Hyoyeon, Yoona (the current leader of the group), Sooyoung, Tiffany and Seohyun (the "maknae" or youngest member). An additional member, Jessica Jung, who was with the group since its inception, left the group in September 2014.note On September 29, 2014, Jessica announced via her Weibo that she had been kicked out of the group
, claiming the company and "eight others" had banded together to get her removed. SM Entertainment later released their own statement confirming Jessica's departure
but saying Jessica had actually been fired due to her allegedly
neglecting her group duties in favor of her own ventures. Jessica replied with another statement denying this
- to this day nobody outside of the members and the company knows for sure exactly what happened, and probably never will. In the years since, Jessica has pursued endeavors including a solo music career, a fashion line, and novel writing.
Some of the group membersnote Taeyeon, Tiffany, Yuri, Hyoyeon, and Seohyun have started solo music careersnote although each member has released at least one solo song, be it for soundtracks or otherwise, and everyone except Hyoyeon has some form of an acting career, whether it be musicals, voice acting or TV dramas. Several subgroups within the main group have also been made — Girls' Generation-TTS (Taeyeon, Tiffany, and Seohyun), active from 2012 to 2017, and Girls' Generation-Oh!GG (Sunny, Taeyeon, Yoona, Yuri and Hyoyeon), which debuted in 2018 and resumed activity in 2021.
SNSD began to achieve widespread fame and appeal in 2009 after the release of their first EP (referred to as a "mini album") and its namesake leading single, "Gee". "Gee" has since gone on to become a Signature Song for the group, becoming the best-selling South Korean single of 2009 and being hailed as the "K-Pop Song of the Decade" by Melon (a Korean music website and award-giving body). "Gee" also used to hold the distinction of being the longest-running #1 ranked song on Music Bank, one of Korea's most popular music chart shows, before it was eventually passed by Psy's record-shattering hit "Gangnam Style".
Following several more releases and an inaugural tour that sold out in three minutes, the group signed with a division of Universal Music Japan to venture into making releases in the Japanese language, where they found further success. They eventually expanded into American releases in 2011 with The Boys, but the group was really pushed into the international spotlight after the title track of their fourth Korean album I Got a Boy won Video of the Year at the inaugural YouTube Music Awards in 2013. Considering the group was up against nominees like Psy and Justin Bieber, and they were considered relatively lesser-known, their victory was something of an upset and made headlines in media outlets all over the world.
The girls are especially beloved among their fans due to their dorky natures when not performing and the copious amounts of Fanservice that they dish out. They are also well-known for the Les Yay that they often indulge in; in turn, the fans do a little indulging of their own in the form of the sheer amount of Slash Fic they churn out featuring the girls.
On October 9, 2017, SM announced that members Sooyoung, Seohyun and Tiffany had chosen not to re-sign with the company
— Tiffany because she would be going overseas to study and work on solo activities, while Sooyoung and Seohyun wanted to focus on their acting careers. The company stated, "Girls' Generation is a group that is precious and meaningful to SM and their fans. The members also have no thoughts at all about disbanding. Simply, as there are members whose contracts have ended, a careful decision will be made after discussions with the members about Girls' Generation's direction for activities in the future." From this point onward, the group was considered to be on indefinite hiatus, with all members focusing primarily on their solo careers.
In May 2022, SM announced the group would be reuniting for their 15-year anniversary in August of that year, and that month saw the release of Forever 1, their seventh Korean album. It was also revealed
that they had decided to change the leader role in the group, with it now being on a rotating monthly basis to take the stress off Taeyeon, who had served as the sole leader since the group's early days. The members reportedly agreed that as Yoona, Tiffany and Sooyoung did the best job, they would ask Yoona (who is also the leader of Oh!GG) to be the leader for Forever 1 promotions, with Tiffany and Sooyoung acting as second in command.
---
open/close all folders
Members
Active:
Sunnynote : Lead Vocalist, Rapper
Hyoyeonnote : Main Dancer, Main Rapper, Vocalist
Yurinote : Lead Dancer, Lead Rapper, Vocalist
Yoonanote : Leadernote , Lead Dancer, Rapper, Vocalist, Visual, Center
Hiatus:
Tiffanynote : Lead Vocalist, Rapper
Sooyoungnote : Lead Dancer, Lead Rapper, Vocalist
Seohyunnote : Lead Vocalist, Maknae
Former:
Jessicanote : Main Vocalist
Sub-Units
JeTiSeo: Debuted in 2008, comprised of Jessica, Tiffany and Seohyun. This sub-unit was called a "project group" by SM, and was intended to demonstrate the vocal capabilities of the trio through ballads. Released two soundtrack singles before being reabsorbed back into the group.
TaeTiSeo: Debuted in 2012, comprised of Taeyeon, Tiffany and Seohyun, and the most well-known sub-unit by far. Formed during the main group's hiatus, SM described them as a group that "[focused] on each member's vocal ability", and although the sub-unit was described as being "rotational", the members remained the same for the duration. Released three extended plays from 2012 to 2015, and had their own reality show "The TaeTiSeo" in 2014.
SHY: Unofficial sub-unit comprised of Sooyoung, Hyoyeon and Yuri. This sub-unit was very popular with fans, who thought the members would excel in hip-hop/dance music. Although they never officially released any music, the members themselves jokingly acknowledged the sub-unit and performed two special cover stages during concerts (Aya Matsuura's "Yeah! Meccha Holiday" and Salt-N-Pepa's "Push It").
Oh!GG: Debuted in 2018, comprised of Taeyeon, Sunny, Hyoyeon, Yuri and Yoona. This sub-unit is made up of the members who chose to re-sign with SM Entertainment, and is notable for having Yoona as their leader instead of Taeyeon. They have released one single.
Discography
Korean discography:
Albums:
EPs:

Into the New World - 2007
Gee - 2009
Tell Me Your Wish (Genie) - 2009
Hoot! (009) - 2010
Mr. Mr - 2014
Japanese discography:
Albums:
EPs

Mr. Taxi/Run Devil Run - 2011
Flower Power - 2012
Galaxy Supernova - 2013
My oh My - 2013
Love & Peace - 2013
Catch Me If You Can - 2015
Sub-Unit Discography:
JeTiSeo:

Oppa Nappa - 2008
Mabinogi (It's Fantastic!) - 2008

TaeTiSeo:

Twinkle - 2012
Holler - 2014
Dear Santa - 2015

Oh!GG:
Solo Discography:
Taeyeon:

I - 2015
Why - 2016
My Voice - 2017
This Christmas: Winter is Coming - 2017
Something New - 2018
Voice - 2019note
Purpose - 2019
(Purpose) - 2020note
What Do I Call You - 2020
#GirlsSpkOut - 2020note
Weekend - 2021
INVU - 2022

Tiffany:

I Just Wanna Dance - 2016
Heartbreak Hotel - 2016
Lips on Lips - 2019

Yuri:

Please! - 2008note
Secret - 2016note
The First Scene - 2018
Time of the Time - 2021note

Yoona:

Innisfree Day - 2010
Deoksugung Stonewall Walkway - 2016
When The Wind Blows - 2017
A Walk to Remember - 2019

Seohyun:

Secret - 2016note
Don't Say No - 2017

Jessica:

With Love, J - 2016
Wonderland - 2016
My Decade - 2017
Call Me Before You Sleep - 2019note

Sunny

You Don't Know About Love - 2008note
Finally Now - 2009note
First Kiss - 2014
Heart Throbbing - 2015note
U&I - 2017note
Collar - 2021note
Your Bright Smile Is on the Clouds in the Sky - 2021note

Sooyoung

I Am - 2005note
Please! - 2008note
Wind Flower - 2014note
Winter Breath - 2018
Be Yourself - 2020note
To My Star - 2022note

Hyoyeon

Born to Be Wild - 2016note
Mystery - 2016
Wannabe - 2017
Sober - 2018note
Punk Right Now - 2018note
Punk Right Now (Remixes) - 2019note
Dessert - 2020note
Think About Me - 2020note
Second - 2021note
Deep - 2022note
Links
Instagram:
Twitter:
YouTube
Not to be confused with the ruling party of the Republika Srpska!
note Who share the abbreviation of SNSD
---
Tropes related to SNSD:
A-B
C-D
Captain Obvious: Seohyun. During an episode of Hello Baby, the girls were eating and wondered what they should do when they were finished. Seohyun immediately replied, "We should clean up." (What the other girls were actually talking about were the activities they were planning later in the day.) Afterwards, Yuri related an anecdote about a lady asking Seohyun who made their meals in the dormitory; Seohyun answered, "The rice cooker."

Yoona had a good Captain Obvious moment in Hello Baby, when she and Jessica pranked the members by putting too much salt and vinegar on their food.

Tiffany: Why is [the food] so salty?!

Sooyoung: What did you put in it?!

Yoona: Salt!

Catchphrase: "Heol! Daebak sagun!"note The girls tended to say this a lot during I Got a Boy promotions, especially during the video shoot.

"Yah, Seohyun!"note The girls' somewhat affectionate way to call their maknae whenever they need something.
Tiffany has several famous lines from songs.

"Genie" has "DJ, put it back on!", which is turned into a Mad Libs Catch Phrase when played live.
"Gee" has the English intro, which almost always had Jessica accompanying Tiffany when played live.
"I Got A Boy" has "Ayo, stop! Lemme put it down another way." If the girls are wearing hats, they'll also throw them.

Cat Smile: Sunny◊.
Chekhov's Gun: A certain◊ pic had been around the web for a while; it was rumored to be from a music video of a song that was supposed to be released instead of "Gee" in 2008. Fast-forward four years and it's revealed to be "Dancing Queen", a Translated Cover Version of Duffy's "Mercy" which was officially released by SM Entertainment as a digital single and is also included in their fourth album. It was revealed that it couldn't be released back then due to copyright issues.
Chronological Album Title: Their Japanese albums.

2. Girls' Generation II: Girls & Peace

Cliffhanger: At the end of the "Oh!" music video, the girls return home to find that their apartment has been ransacked by their evil counterparts. The second part of the story is in the "Run Devil Run" music video.
The Coats Are Off: In the "Paparazzi" music video and in Tiffany's "Umbrella" solo stage during the "Into The New World" tour.
Color Motifs: The "Run Devil Run" video predominantly utilizes white◊ and black◊.
Comeback Tomorrow: When Yuri is in an argument with a person, she goes to her room and writes a list of comebacks for later use on a piece of paper. When the person she's arguing with has an unexpected answer, she excuses herself, goes back to her room, and writes more comebacks.
Confession Cam: Implemented in Girls Go To School and Hello Baby, where it was frequented by Yoona and Yuri in the latter.
Contagious Laughter: Taeyeon. Her "ahjumma" laugh is the butt of jokes, and whenever she laughs, everybody else ends up laughing along with her.
Cool and Unusual Punishment: When Yuri first gets the "Worst Mom" title in Hello Baby, her punishment? A water-rafting ride.
Cool Big Sis: they're this to most of the junior groups from their company, as it's not uncommon to see them tending to the younger kids. Special mention goes to Jessica, whose real little sister, Krystal, is part of f(x).
Costume Porn: They've worn some incredible themed outfits in many of their videos. Mod/60's style in the video for "Hoot", or the Yellow and Black Taxi short skirts and vests in Mr Taxi, the bad girl outfits in "Run Devil Run", the intro for "The Boys", motorcycle gang clothing in "Bad Girl", the Naval and Army style uniforms in "Genie", etc.
Could Say It, But...:

"Usually, Tiffany is the funniest member. If Tiffany were to act as she does with us, then her sense of humor would be funny on TV, but that's not the case." - Sooyoung

The Cutie: Sunny. Notable in that she's one of the elder members, and frequently gets called out on her overly cutesy behavior by the younger members. The other members are already immune to her "aegyo" (cuteness), sometimes referring to it as "aegyo that calls for a punch". For a long time she was known as the "fake maknae", since at a first glance people often mistake her as the youngest member of the group.

However, it was revealed that she isn't overly cutesy in real life. During their appearance on Happy Together, Yuri revealed that "Normally, Sunny lacks expression on her face and has no strength but whenever a guy appears, all of a sudden expressions start to come out".

Dancing In The Street: In the "Love and Girls" music video.
A Day in the Limelight: Basically the point of their show MTV Lifestyle, in which each member got to be in the limelight for an episode (however, most of them brought along a companion/companions with them). Three of the members' (Sooyoung, Hyoyeon, Taeyeon) episodes featured the whole group, and Sooyoung and Taeyeon's were extended to 2 episodes.
Dark Is Evil: The Black SoShi, SNSD's evil parallel-universe counterparts that appear in the videos for "Oh!" and "Run Devil Run", who are decked out in black.
Delayed Reaction: Jessica was usually a few seconds behind the rest when reacting to jokes.
Design Student's Orgasm: The video for Visual Dreams.
Determinator: Surprisingly, Seohyun. Episode 64 of Running Man showed her competitive side, which was almost too extreme to the point where she would've eliminated her partner Yoo Jae-suk if given the opportunity.

Tiffany definitely counts. She moved to Korea at age 15 (despite her father's protests) to pursue a career in the music industry, despite not knowing a single person in Korea or even speaking the language well. Being raised primarily in the U.S, Tiffany wasn't accustomed to the Korean traditions and was often called 'rude' by their standards, especially with no one to teach her any better, she had to learn through being insulted and ridiculed.
Really, all SNSD members count. This video highlights how much they went through in order to get where they are now.

Distaff Counterpart: Originally Girls' Generation was going to called "Super Girls", based on the name of their label mates Super Junior.
Does Not Like Spam: Seohyun and burgers.

"Unnie, if you eat that stuff you will DIE!"

- Seohyun to Sunny, when she noticed the latter was eating a burger (Intimate Note)

Do Not Call Me "Paul"

Do Not Call Me Soonkyu, in Sunny's case. Let's just put it this way: She's not very fond of her real name.
Do Not Call Me Miyoung for Tiffany. (Except that one time.◊) Rumor has it that the other members refer to her as "Miyoung" when her face is makeup-free, and after she puts on makeup, other members would call her "Tiffany".

Double Entendre: The entirety of the song Reflection from their second Japanese album. If you thought the Gratuitous English lyrics weren't suggestive enough, search for the Japanese lyrics and you'll find out that the innuendos in there are anything but subtle.
Dress Rehearsal Video: Practically all of the videos to their album-leading singles feature cuts of the girls in full costume, performing the steps to their given song on a soundstage. On some singles, they digitally release videos composed solely of them performing the dance without any interruptions.

They even play instruments (er, some of them) in their self-titled song, and in the video for "My Oh My".
E-F
Embarrassing First Name: Korean names in their case - Sunny's Korean name is Lee Soon-Kyu and Tiffany's is Hwang Mi-Young. Neither of them like their Korean names very muchnote something which is occasionally Played for Laughs by the other members.
The End... Or Is It?: Although the "Run Devil Run" music video (which is a continuation of the "Oh!" video) involves the Black SoShi being defeated (by Yuri unplugging the computer monitor that they came from), the video ends with the monitor being tapped, displaying the Black SoShi.
Epic Instrumental Opener: The music video for The Boys.
Eurodance: The genre of "Genie (Tell Me You Wish)" according to the girls.
Even the Girls Want Her: They have a sizable female fanbase, most of whom enjoy them for the same reasons the male fanbase does. The fandom on twitter and tumblr talk about "exploding ovaries" a lot. The girls themselves are well aware of it.◊
Evil Counterpart: The Black SoShi, their dark-clad selves in the "Oh!" video and the story version of the "Run Devil Run" video, are meant to be this. However it's mostly Felony Misdemeanor - for all the attention they drummed up, they do little more than trash the apartment belonging to the girls' cheerleader personas in "Oh!", and whatever damage they do is fixed in a Fast-Forward Gag. See here.
Expy: Hyoyeon, Jessica, Taeyeon, and Yoona were all referred to as "the next BoA" by netizens back when they were still trainees.
Family Business: Jessica's younger sister Krystal was a part of the group f(x), which was also under SM Entertainment. In addition, Sunny's uncle is the founder of SM Entertainment (although she got into the group on her own merit, and didn't mention her connections until she had passed her audition).
Fanservice: All the time:

The costumes Hyoyeon wore during her appearances on Dancing with the Stars.
Interestingly, their midriff-baring costumes are mostly associated with their more cutesy acts like Gee◊ and Oh!◊ rather than their Hotter and Sexier performances like in Run Devil Run.

Fan Disservice: The "Ugly Face-Off" on Horror Movie Factory. Comes with a side of Fanservice intermission numbers to help the viewers forget what they've just seen.
Flanderization: In fanfics. There's a whole list of them here.

Taeyeon: Is either a Memetic Molester that loves butts (especially Tiffany's) or depressed, angsty and emo that's forever mistaken for a middle schooler/kid.
Tiffany's voice is so husky she sounds like she has a sore throat all the time.
Jessica doesn't do anything but eat and sleep (except when cucumbers are around).
All Sooyoung does is eat and tease Taeyeon & Sunny for being short.
All Hyoyeon does is dance.

Felony Misdemeanor: Seohyun was blacklisted in an airport because of

tomatoes

.
Forgetful Jones: Tiffany, who was born in California, was asked by an emcee where she (Tiffany) was born. Tiffany replied with: "LA! (beat) Ah, San Francisco. (laughs) Sorry."

In an interview, she was asked what her Korean name was and she said "Pani".note

Freudian Slip: Jessica while singing "Say Yes" in ''Kiss the Radio'':

Jessica: Girl... BOY! I see you walking by everyday...

Taeyeon in Hello Baby.

Taeyeon:

Dad!

Bring the nipple.

I mean pacifier!

Hyoyeon on Shinhwa Broadcast.

Hyoyeon: They don't go out often because SNSD members have hearts like small peppers (a Korean euphemism for "penis").

Friendly Tickle Torture: To Tiffany, in an episode of Star Golden Bell.
Funny Background Event: Judging from fan accounts, the girls do funny stuff when the cameras aren't focused on them during live events, such as concerts and the like.
Fun T-Shirt: Not a T-Shirt, but a hoodie. Sooyoung's "I Never Finish Anyth"◊ hoodie.
Fun with Foreign Languages: Jessica and Tiffany randomly breaking out in English in concerts and in TV shows.

"I need my hairspray right now. N-O-W, now!" (Jessica)
Jessica and Tiffany with "Oh My God".
G-M
Gamer Chick: Sunny is the most well-known example, the other members were once startled late at night by the noises of a game she was playing. Yoona and Taeyeonnote count as well.
Game Show Appearance: Sunny, Yoona and Taeyeon in 1 vs. 100 (the Korean version). Also in their numerous guest appearances in the variety-slash-game show Star Golden Bell.
Genki Girl: Tiffany during her early days as an SM trainee.
Giant Poofy Sleeves: The video for "Kissing You" include a few relatively minor examples.
Girl Group: One of the most popular Korean examples. Possibly the best example considering their worldwide popularity.
Girliness Upgrade: For a while certain members (specifically, Sooyoung and Yuri) were told to tone down their behaviour and act in a more "ladylike" fashion. Doesn't mean their dorky sides have gone away completely, though.
God in Human Form: Taeyeon and Hyoyeon's solo works have them as incarnations of Artemis and Arachne, respectively.
Gratuitous English: Most of their album-leading singles have at least a couple of English words peppered here and there; sometimes it works, and sometimes it doesn't. Perhaps the worst offender would have to be Genie, with the line "I'm Genie for your wish/dream/world" being repeated in the chorus. This was unfortunately still not corrected in the Japanese Translated Cover Version.

Mostly averted with their single "The Boys". The Korean version has the typical English sprinkled in with the girls rapping. Then there's an English version. The English itself is quite impressive, when you look at the lines individually anyway. The song as whole doesn't actually make sense.

Gravity Master / Artistic License – Physics: Parodied. Sooyoung said that they didn't use a 360° camera for the 10-second jump shot freeze frame◊ in the Genie music video; she stated that they actually jumped, floated, and stayed in the air for 10 seconds.
Harmony: Oh yes, their voices blend together beautifully. Though, if you ask any SONE, they will tell you that Taeyeon and Jessica's voices in particular are a match made in heaven.
Healing Factor: Doctors have told Sooyoung that her bones "heal at the speed of light".
Hood Ornament Hottie: There's a little of this going on in their album covers for Mr. Taxi◊/Run Devil Run◊.
Hotter and Sexier: Run Devil Run kicked off a change in style that saw the girls gradually become more and more like this in most of their succeeding releases, until it came to a head during...
I Can Still Fight!: Tiffany fell and injured her leg during a concert, but instead of immediately seeking medical help, she went on to perform. During Gee promotions, she injured her ankle but still performed on music shows with a cast on.

Sunny was also seen with a knee brace while performing.
Yuri hurt her ankles and needed to have surgery but she decided to postpone it until after the end of promotions, leading to her being seen performing with ankle braces.

I Know Your True Name: The girls are shown to refer to each other by their real names on occasion.

Sooyoung: Sunny! Sunny!

Sunny:

*Mumbling*

Why me?

Sooyoung: ...Lee Soon-Kyu!

MCs: Ah! Her real name is Soon-Kyu!

*Later*

MC: *reading from fan questions* Sunny do you not like your given name? And could you show us your charms?

Sunny: *looking away and laughing*

MC: So I wonder what your real name is.

Sunny: *ignoring the question* I'll show you my charms.

MC: Why don't we ask the writer what her real name is?

Sunny: No! No! No! No!

Sooyoung: Hey, Soon-kyu!

Sunny: [while hitting Sooyoung] What's wrong with you?!

Initiation Ceremony: When Yuri first came to SM Ent. as a trainee, Jessica, Hyoyeon and Sooyoung (who were in "cool unnie" poses) ordered Yuri to take her shoes off before entering the studio. When she entered the studio, everyone else were wearing shoes. It was just a prank, but Yuri was scared of them for a year because of that. She also used honorifics to talk to the three girls in honorifics even though they were the same age (and Sooyoung was actually younger, although they are considered the same age in Korean age).
Innocent Fanservice Girl: Sooyoung accidentally revealed in Come To Play that Jessica doesn't like wearing clothes immediately after showers.
Internal Homage: "Forever 1" references the opening of "Into the New World" during the bridge.
Image Macro: The "Ms. Bitch Please" reaction face used in memes is none other than... Tiffany◊.
Irony: Their self-titled song is actually a cover of another artist's song by the same name.
It's a Small World, After All: Jessica and Tiffany were born in the same hospital in San Francisco in 1989, and they would coincidentally end up attending and graduating from the same high school in Seoul, Korea Kent Foreign School, during their trainee days.
It Tastes Like Feet: Yuri's "ma" drink.note The other members don't like it... at all. When Yuri became a part of a [bogus] SNSD leader election, she proclaimed that if she becomes the leader, she would make all the other members drink "ma" every morning. The other members refused with a look of disdain on their faces. (and yes, that includes Ms. Uptight Lifestyle Seohyun)
Jack of All Trades / Renaissance Woman: Sooyoung can speak fluent Japanese, and she plays the guitar, piano, drums, and viola.

Seohyun can speak fluent Chinese and English, and she plays the piano, guitar, and violin.

Japanese Pop Music: The group broke into the J-Pop market sometime in 2010, starting with the Japanese covers of Genie and Gee. This was followed by double A-Side Mr. Taxi/Run Devil Run and their 2011 Self-Titled Album.
Kaleidoscope Hair: Sunny. As stated before, she frequently changes her hair colors through dyeing her hair or wearing wigs.
Kids Rock: A part of the song "My Child" was sung by a children's choir. However, it was revealed that the members of said "children's choir" were SNSD themselves.
Language Barrier: During Horror Movie Factory.

Sunny & Taeyeon: What?

MC: Do you wanna play a game?

Taeyeon: Do you wanna... fried chicken? Huh?

The Leader: Taeyeon, though she was so overwhelmed by the pressure of it and felt like she wasn't allowed to complain about it that she "stepped down" at some point in time and had to be talked into keeping the role. It helps that there never was a hierarchy in the group in the first place, and all the girls were more than happy to help her share the pressure.

Seohyun is the leader of TTS.
For their 15th anniversary, as they had to plan a full-group comeback while also fulfilling their individual schedules, they decided to incorporate a rotational leader system in order to lift the burden off the shoulder of a single member. Yoona, specifically, was the designated leader for the comeback period, with Taeyeon instead assuming the title of Queen Dowager.

Like Brother and Sister: SNSD is like this to label-mates Super Junior and SHINee.
Little Miss Badass: Tiffany explained on the now-defunct Korean TV Show Star Golden Bell how Yoona got the nickname "Power Yoona".

Host: Anyone want to share a story proving just how powerful Yoona is, really?

Tiffany: She said she had to carry a box when we were moving but she didn't just carry one. She carried all of the members' boxes. So we didn't even need to call the movers because Yoona did them all.

Host: [to Yoona] Can you carry beds too?

Yoona: Our room is shared among the 3 of us: Taeyeon, Sooyoung and myself. We didn't like how the beds were arranged before so we switched it around ourselves.

Host: So you moved the beds?

Sooyoung: Yoona did it all by herself.

Host: Sooyoung just proved it.

Yoona: In the studio [where] we practiced, we moved a couch from the 1st floor to the 3rd floor...

And here we have video footage of her breaking 6 pairs of chopsticks at once without breaking a sweat.

Look Ma, I Am on TV!: Yuri on Entertainment Tonight News.

Soooyoung: I actually personally really like Girls' Generation.

MC: Is there someone you like in particular?

Sooyoung: Personally... They're all trying to show me their merits and charm, but... Yuri who is right in front of me.

MC: Can someone be more tacky?

Yuri: [waving to the camera] Mom, I'm on TV!

Lunch With The Manager: Sooyoung once had lunch with their manager because the other members won't go with her due to their busy schedules.
Lyrical Cold Open: I Got A Boy.
Lyrical Dissonance: I Got A Boy has a hip-hop/dance beat. The lyrics, however, was described by the fandom as a stereotypical ''oppa saranghae'' song. note
Mascot: Taeyeon has two of them: her dukongs◊note and the Gingerbread Man◊note . Both of these are commonly associated with Taeyeon, and both of these mascots have made cameos in Taeyeon's instagram.
Match Cut: Used very often in their music videos to interchange between two scenes of the group dancing while wearing different outfits.
Meadow Run: Spoofed by Yuri and Jessica (on a beach) in the SNSD in Phuket (Making Film A) DVD. They do it properly on the 2nd attempt, though.
Melismatic Vocals: These are common across their discography, no doubt helped by the fact that they have some of K-Pop's most revered powerhouse vocalists such as Taeyeon. But "Mr. Mr." is probably best-known for this among their singles, with Taeyeon, Jessica, and Tiffany forming a Vocal Tag Team that has been joked about endlessly by fans.

Tiffany: MR WOOAAHH OOH

Jessica: OHHHH WOOOOAAAHHHHH OHHH

Taeyeon: WOOOOOOOOOOO WOOOAAAAAHHHH OOHHH

—top comment on the video

Merchandise-Driven: Their single, Chocolate Love, as seen being performed in the above photo, is a promotion for the LG Cyon Chocolate Phone. There's also their other CFs for water coolers, the LG Cookie and various other items.
Metal Scream: Taeyeon's Devil's Cry.
Music for Courage: "Into the New World" is commonly brought up as an inspiration for people who have been going through a rough time. It has also become a staple at political protests.
N-P
R-Z
---
지금은, 소녀시대! 앞으로도, 소녀시대! 영원히, 소녀시대!
Right now, it's Girls Generation! Tomorrow, it's Girls Generation! Forever, it's Girls Generation!
---