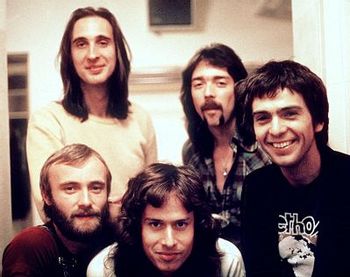 There's too many men,
Too many people,
Making too many problems.
And not much love to go round.
Can't you see this is a land of confusion?
For the video game console, see Sega Genesis. For the Web Game, see Ge.ne.sis (2009)
Genesis is a British band active from 1967 to 2000, with sporadic reunions since then. They went on to become one of the most successful rock bands in history, spanning five decades and selling over one hundred million albums.
Genesis has several distinct eras, though the transitions between them are somewhat more gradual than the popular telling would have you believe. The first period is quite brief, is often forgotten, and is actually a source of Canon Discontinuity; the band writes their first album, From Genesis to Revelation, out of their official discographies entirely and have commented that it only remains in print because they do not control the rights to it, though this is more a case of dissatisfaction with the arrangements than with the songs. (They featured demo versions of several of its songs on a box set they released in the late '90s and have commented that they are primarily dissatisfied with the saccharine production forced upon them by Executive Meddling.) It features some slight Christian themes and has a more relaxed, poppy sound, which might be jarring for fans who got interested in the band during their later years.
The interim period and their second album, Trespass (a transitional album that does not clearly belong to either era, though in sound it hews much closer to their second), have a more pastoral sound occasionally edging into Hard Rock, both provided by guitarist Anthony Phillips.note When asked about it, Tony Banks and Michael Rutherford once said that Phillips' departure had a bigger impact on the band's sound than Peter Gabriel's. The start of the band's second era is actually a source of some debate; the clearest demarcation points are either Trespass or the introduction of guitarist Steve Hackett and drummer Phil Collins to the band.note Arguably, the era begins with Trespass if we are basing our telling on musical style, but with Nursery Cryme if personnel shifts are our primary criterion; many of the major musical traits associated with the band's second era were already clearly established on Trespass.
The first album this new line up produced, Nursery Cryme, saw Genesis, much like other British bands at the time, diving headfirst into Progressive Rock. The albums made during this time are arguably the strongest, the band being at their peak of musical talent and creativity. Opinions differ on whether the definitive album of this era is Foxtrot, Selling England by the Pound or the enormously long, Darker and Edgier double album The Lamb Lies Down on Broadway. The production of The Lamb, however, caused tensions in the band due to Creative Differences. These, in combination with his bandmates' unsympathetic responses to difficulties in his personal lifenote namely him having to take a break from recording and touring with Genesis in order to tend to his wife and newly-born daughter, who had both fallen ill due to childbirth complications, motivated Gabriel to leave the band in 1975.
Gabriel's departure led to about a year of searching for a new lead singer, but after multiple auditions, the band eventually came to the conclusion they already had one: Collins, who not only sounded almost exactly like Gabriel, but also had a wider vocal range. Despite his initial hesitance, Collins was convinced to Step Up to the Microphone, which led to two commercially successful (and fan favorite) records, Trick Of The Tail and Wind And Wuthering. In 1977 after the Wuthering tour, Steve Hackett also left, taking the quartet down to a trio, with Phil Collins firmly, albeit reluctantly, in the role of the Face of the Band.
After fumbling to find a new direction, Genesis released ...And Then There Were Three... in 1978, followed by Duke in 1980, which marked the start of the band's third era, as they broke into the mainstream with a slicker Arena Rock sound, this time to Banks' initial hesitation. The band gradually recreated itself as one of the most successful pop/rock bands of the era, performing to massive audiences, topping the charts several times, and selling albums by the truckload. Most people were introduced to Genesis during this time, and they are most likely remembered for a string of sleek poppy radio hits released between 1983 and 1986, like "That's All", "Invisible Touch", "In Too Deep" and "Land of Confusion", the latter of which even got an iconic music video by the Spitting Image staff.note It is, however, important to note that, despite the band's chart success as a pop/rock band, they continued releasing Progressive Rock songs as album tracks during this period, though these were somewhat less complicated than the band's earlier material. Arguably, even some of the band's hit singles qualify as prog in their unedited album versions, such as "Tonight, Tonight, Tonight", "Home by the Sea", "Abacab", and possibly "No Son of Mine" and "Mama". Phil Collins also had a successful solo career during the time that Genesis was having hits, and his continued solo success eventually led to him leaving Genesis in good terms in 1996, as he wanted more free time to work on his own projects. Unfortunately, the next album following Collins' departure, 1997's Calling All Stations, was poorly received by fans and critics alike, and disappointing sales and poor sales for the associated tour (which prompted the band to cancel a planned US leg) resulted in Genesis unceremoniously dissolving in 2000.
In 2006, Collins, Banks and Rutherford held a massive reunion tour called Turn It On Again, where they were joined by longtime auxiliary members Chester Thompson and Daryl Stuermer. The tour had originally envisioned as a reunion of the classic lineup, but Gabriel couldn't commit to a timeframe to be available, leading Steve Hackett to back out as well (as Gabriel's presence was the sole reason he decided to participate).
In 2009, Phil Collins revealed that spinal problems accumulated during the Genesis reunion tour, caused by sitting irregularly at the drum kit, led to him needing back surgery. He is unable to play the drums or piano properly as a result, and he had to tape his drumsticks to his hands to play them on his Going Back album. He retired temporarily from music in 2011, and in the following years his medical condition improved considerably, to the point where he began embarking on a comeback of sorts in 2015 with a series of reissues of his solo albums (much like Genesis did with their catalogue starting with a series of boxsets in 2007), and returned to performing two years later. A reunion tour
began with shows in the UK and Ireland in late 2021 and ended in March 2022 with a London show that the band billed as its final concert
. While Collins sang during the tour, his health has again declined to the point that he can't play drums at all, and he remained seated for some concerts
. Notably, the tour featured the return of Daryl Stuermer, but Chester Thompson didn't return; instead, on drums was Phil's son Nic, who had also replaced Chester for Phil's comeback tour.
During the final performance of "The Last Domino?" tour, the band announced that it would be the last time they'd play together as Genesis, formally ending the run of one of the most-influential prog-rock groups of all time.
It's impossible to describe Genesis in general terms since the band has always been constantly evolving, but they have a gentle, emotional sense to their music present regardless of era. Genesis has also pioneered several musical techniques during its existence and is often cited as inspiration by other musicians. There are also many Genesis tribute bands, such as The Slippermen, Dusk, and The Musical Box, the latter of which faithfully reproduces early Genesis performances, and is the only Genesis tribute act endorsed by Genesis members.
They were also one of the early adopters of moving light fixtures, taking some of the very first units on the Abacab tour. They actually invested heavily in the company after being shown the first prototype and their manager Tony Smith even suggested the name "Vari-Lite".
---
Principal Members (Founding members in bold, current members in italic):
Tony Banks - keyboard, organ, piano, vocals, mellotron, synthesizer, guitar, pianet, synth bass (1967–98, 1999, 2000, 2006-2022)
Mick Barnard - guitar (1970–71)
Phil Collins - lead vocals, drums, percussion, vibraphone, drum machine, trumpet, tambourine (1970–96, 1999, 2000, 2006-2022)
Peter Gabriel - lead vocals, flute, accordion, bass drum, tambourine, oboe, accordion, percussion, sound effects (1967–75, 1978, 1982, 1999)
Steve Hackett - guitar, kalimba, autoharp (1971–77, 1982, 1999)
John Mayhew - drums, percussion, vocals (1969–70, died 2009)
Anthony Phillips - guitar, vocals, dulcimer (1967–70)
Mike Rutherford - bass, guitar, vocals, cello, bass pedals, sitar, drum machine (1967–98, 1999, 2000, 2006-2022)
John Silver - drums, percussion, vocals (1968–69)
Chris Stewart - drums, percussion (1967–68)
Ray Wilson - lead vocals (1996–98)
---
Studio Discography:
---
Live Discography:
1973 - Genesis Live
1977 - Seconds Out
1982 - Three Sides Live
1992 - The Way We Walk, Volume One: The Shorts
1993 - The Way We Walk, Volume Two: The Longs
2007 - Live Over Europe 2007
---
Tropes of Confusion:
---
It's only knock and know all, but I like it.
---