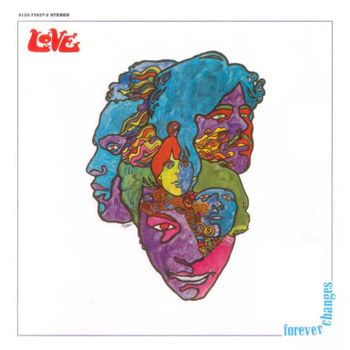 Forever Changes is the third studio album by the band Love, released in 1967. To call this album the product of a tumultuous time would be an understatement.
In the broader world protests against The Vietnam War were starting to heat up, along with a good deal of social/political unrest in general. Members of the band sometimes interacted with members of Charles Manson's family, not violent as of yet but putting up bad signs. However, beginning with the early recording sessions, the band, except Lee, was plagued by internal conflicts and lack of preparation for Lee's intricate arrangements. In order to compel the band to participate, co-producer Bruce Botnick enlisted top session musicians Billy Strange (guitar), Don Randi (piano), Hal Blaine (drums), and Carol Kaye (bass) to work with Lee, completing "Andmoreagain" and "The Daily Planet" in a single three-hour session. It worked; temporarily losing their jobs to outsiders for two songs shocked the rest of the band out of their complacency, and they completed the last nine tracks on their own rather quickly after much rehearsing. On top of everything else, Lee had become convinced that he only had a short time to live (he wound up surviving until 2006).
The strain of recording Forever Changes wound up breaking this iteration of Love. Lee dismissed the other four and formed a new band, but in effect Love albums after this would be Lee solo projects. Forever Changes stands as an eerie souvenir of its time, though. The album contains "Alone Again Or", a frequently covered song written by band member Bryan MacLean.
Tracklist
Side One
"Alone Again Or" - 3:16
"A House Is Not a Motel" - 3:31
"Andmoreagain" - 3:18
"The Daily Planet" - 3:30
"Old Man" - 3:02
"The Red Telephone" - 4:46
Side Two
"Maybe the People Would Be the Times or Between Clark and Hilldale" - 3:34
"Live and Let Live" - 5:26
"The Good Humor Man He Sees Everything Like This" - 3:08
"Bummer in the Summer" - 2:24
"You Set the Scene" - 6:56
Personnel
Johnny Echols: Lead guitar
Ken Forssi: Bass
Arthur Lee: Lead vocals, guitar
Bryan MacLean: Rhythm guitar, vocals
Michael Stuart: Drums
And I will trope alone again tonight my dear:
---