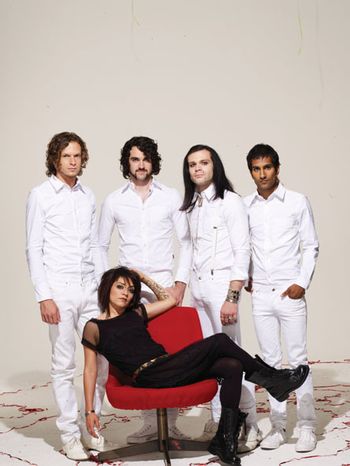 Flyleaf is a Post-Grunge/Alternative Metal band from Texas formed by Lacey Sturm (formerly Mosley), lead guitarist Sameer Bhattacharya, rhythm guitarist Jared Hartmann, bassist Pat Seals, and drummer James Culpepper. They are notable for their Christian faith, although their music is not explicitly labeled Christian.
The band has released four albums so far:
Flyleaf: The platinum selling, eponymously named debut album, released in 2005.
Memento Mori: Their second album, released in 2009.
New Horizons: Their third album, released in October of 2012. One week prior to its release, the band issued a statement saying that Lacey was leaving the band to focus on her motherhood. The split appears to have been amicable.
Between the Stars: Their fourth and most recent album, released in September of 2014. It is the only album to feature Kristen May and be funded through the online direct-to-fan platform Pledge Music.
The band is currently inactive, having gone quiet since the departure of Kristen May in 2016.
---
Some tropes embodied by the band and their work are:
---