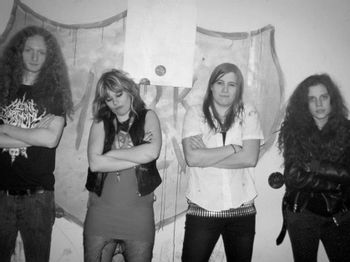 Influences:
GG Allin, Blonde in Heels, Delco
"Lead by the fearless leader EMILY PUKIS, the Vagrants assembled to dominate the Philadelphia punk music scene in 2010. And we succeeded. Using the blood of sluts."
Emily Pukis and the Vagrants is an indie Punk Rock-Heavy Metal band local to Philadelphia formed in October of 2010. Front runner of the band is popular underground animator Emily Youcis and her "pet" vagrants: Leanne Martz, Zack Smith, & Gina Gleason. The band was created primarily to serve as a GG Allin cover band, but began to form more of their own songs soon after.
The band has been touring infrequently as of late, as Emily has been working on the Alfred Alfer movie, but as of mid-2016 the band is running full steam.
On a side note, Gina had been doing some work for Cirque du Soleil, while two daughter bands (called Seed of Serpent and Fever Red) were also formed.
---
Tropes related to this band:
---