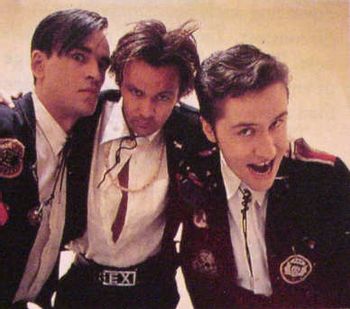 "D.A.A.S - We're the best forget the rest!"
The Doug Anthony All Stars (DAAS) were an Australian musical comedy group who performed together between 1984 and 1994. The band was an acoustic trio comprising Paul McDermott (of Good News Week fame) and Tim Ferguson on main vocals and Richard Fidler on backing vocals. They were known for their aggressive, provocative style; their habit of involving (and attacking) audience members and their tendency to go after controversial, topical and taboo subject matter. Each band member adopted distinctive onstage personas, with Paul playing the evil bastard and Tim assuming the part of the ignorant narcissist, while Richard's character was the eternally, cheerfully naive victim of the others' cruel jokes.
After a sell-out run at the Edinburgh Fringe DAAS built up a strong British following, although both their studio album (DAAS Icon) and their book (DAAS Book) were briefly banned in the UK. A regular role on the popular Australian comedy show The Big Gig helped them achieve recognition in their home country; they were a weekly feature on the show until 1991, when they left to create their own comedy series, DAAS Kapital. Along the way they also made a number of live comedy albums, two VHS videos and one film, and were inexplicably invited to play at the 1992 Barcelona Olympics where it's said their heartfelt rendition of "I Fuck Dogs" brought the house down.
DAAS Kapital ran for two seasons between 1991 and 1992. Set fifteen years into the future, the show takes place in a dystopian world ruled by a global government-corporation called Shitsu Tonka. Under the universal Common Cents currency and the homogenised culture imposed by the government, the world is no longer troubled by petty nationalism or war and is ostensibly flourishing. History has been declared officially over and, to protect the population from dangerous ideas, Shitsu Tonka has assigned three men to catalogue all the artistic works and historical artefacts of the world... preferably as far away from civilisation as possible. Cast adrift in their submarine-slash-spaceship, the Titanic II, their existence denied by the government, the Doug Anthony All Stars find themselves left to their own lunatic devices. The show was almost universally panned by critics, but developed a loyal fan following.
The boys were well known for their tendency to tell outrageous lies to journalists during interviews, with the aim of getting them published as fact. Which, oftentimes, they were. In one particularly memorable occasion, the band told a British reporter that their namesake, Doug Anthony (in reality the Deputy Prime Minister of Australia, albeit the longest-serving one as of now), was a beloved and dearly departed Prime Minister of Australia who had been assassinated by right wing extremists on November 11, 1975. This choice piece of bullshit made it into The Times, The Guardian and The Independent before anyone thought to question its validity. On another occasion, they announced to Australian reporters that they had been cast in the 1989 Batman film and had subsequently become best buds with Jack Nicholson - a lie that made headlines across the country and achieved front-page status on the TV guide of Melbourne's Herald Sun.
They split in 1994, but their lunacy lives on.
---
Their comedy provides examples of:
---
Their show, DAAS Kapital, provides examples of: