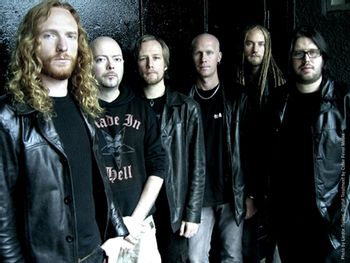 Dark Tranquillity is one of the first (along with In Flames and At the Gates) to create the Gothenburg Death Metal sound, one of the major factors in Melodic Death Metal.
Founded by then-Rhythm Guitarist (later singer) Mikael Stane and lead guitarist Niklas Sundin in 1989, Dark Tranquillity is known for an ever-changing style. No two albums sound alike. While most of their albums are definitively in the Melodic Death Metal vein, their use of keyboards, clean vocals, solos, breakdowns, and occasional female guest-singers (most notably Nell Sigland of The Crest and Theatre of Tragedy) all varies wildly.
The Gallery in particular, has been highly influential, and bands including Killswitch Engage consider it an inspiration.
Dark Tranquillity is also notable for having one of its original members - Mikael Stanne (vocals) still with the band.
Current Line-Up:
Mikael Stanne (vocals)
Martin Brandstrom (electronics, piano)
Christopher Amott (guitars)
Johan Reinholdz (guitars)
Former Line-Up:
Niklas Sundin (lead guitar)
Anders Friden (vocals on Skydancer, their first album, left the band to lead In Flames)
Fredrik Johansson (rhythm guitar)
Martin Henriksson (rhythm guitar)
Mikael Niklasson (bass)
Daniel Antonsson (bass on "We Are the Void")
Anders Iwers (bass)
Anders Jivarp (drums)
Discography:
Skydancer (1993)
The Gallery (1995)
The Mind's I (1998)
Projector (1999)
Haven (2000)
Damage Done (2002)
Character (2005)
Fiction (2007)
We Are The Void (2010)
Construct (2013)
Atoma (2016)
Moment (2020)
Dark Tranquillity provides examples of:
---