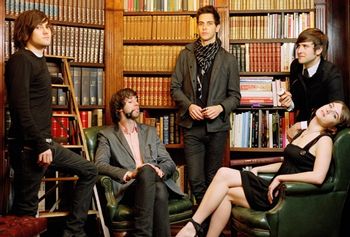 I came here to make you dance tonight
I don't care about my guilty pleasure for you
— "Guilty Pleasure"
Originally created in 2006 by Gabe Saporta (vocalist/writer), formerly of the band Midtown, under the Decaydance label owned by Pete Wentz, this is a band that featured Travis McCoy of Gym Class Heroes, William Beckett of The Academy Is..., and Maja Ivarsson of The Sounds for the band's first song, "Snakes on a Plane" for the movie...Snakes on a Plane.
Former members include Gabe Saporta (vocals), Ryland Blackington (guitar), Alex Suarez (bass), Nate Novarro (drums), and Victoria Asher (keytar). In 2014, Alex and Ryland left the band and were replaced by Andy Barr (guitar) and Eric "Halvo" Halvorsen (bass). Only a year later, on November 10th, 2015, the band announced their official break-up. They had four albums:
While the City Sleeps, We Rule the Streets (2006)
¡Viva La Cobra! (2007)
Hot Mess (2009)
Night Shades (2011)
Hits included the aforementioned "Snakes on a Plane", "Guilty Pleasure", "Good Girls Go Bad", and "You Make Me Feel...". Notable for their music essentially being sarcasm set to a dance beat, and for being ridiculously tallnote Gabe, Alex, and Ryland are all above 6' (6'4", 6'2", and 6'6", respectively,) and Victoria (5'10") and Nate (slightly shorter than Victoria) aren't that far behind. Compare this to the aforementioned Pete Wentz, who comes in at about 5'6", which is also just about the average height of Decaydance musicians.. They were often grouped as part of the "Fueled By Five" (five bands from their label, Fueled by Ramen), which also includes Fall Out Boy, Panic! at the Disco, The Academy Is..., and Gym Class Heroes.
Nothing to do with The '70s arena rock band Jefferson Starship or their pop rock successor from The '80s Starship.
---
Tropes applying to the band:
---
Tropes applying to their music and videos:
---