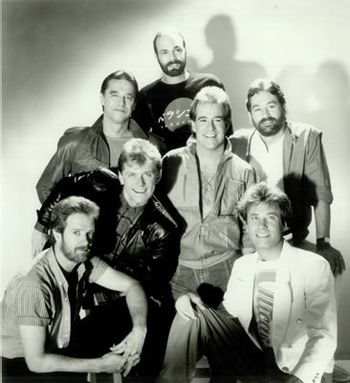 "In the early 1970s when a band lived and died by radio, Chicago ruled the waves with a brass fist..."
Chicago is a rock band formed in 1967 in Chicago, Illinois, first as The Big Thing and later as the Chicago Transit Authority (until the eponymous bus and train operator took exception to this example of fandom and the group changed its name to something less likely to get them sued).
The band's roots begin with a local band called Jimmy Ford and the Executives, which featured Walter Parazaider on saxophone and woodwinds, Terry Kath on bass guitar, and Danny Seraphine on drums. The three, who had been teenage friends, then left for another local band, the Missing Links; trumpeter Lee Loughnane occasionally sat in on that group's gigs. The four soon left to start their own band, with Kath switching to his preferred instrument of lead guitar; they soon recruited James Pankow (trombone) and Robert Lamm (keyboards), and started playing local clubs as The Big Thing, with Kath and Lamm sharing lead vocals. Within a few months, seeing a need for a tenor voice to complement their baritone vocalists, they recruited bass guitarist Peter Cetera as a third lead vocalist. The band then moved to Los Angeles and secured their first record deal, changing their name to The Chicago Transit Authority and later Chicago.
Chicago began as a politically charged, sometimes experimental, jazz-rock fusion band and later moved to a predominantly Soft Rock sound after the death of Terry Kath in the late-1970s, becoming famous for producing a number of hit ballads.
They had a steady stream of hits throughout the 1970s and 1980s. Second only to the Beach Boys in terms of singles and albums, Chicago is one of the longest running and most successful U.S. pop/rock and roll groups. According to Billboard, Chicago was the leading U.S. singles charting group during the 1970s.
They have won a total of five Grammy Awards out of 19 nominations: three in 1977 connected to Chicago X and "If You Leave Me Now", and two in 1985 for "Hard Habit to Break" from Chicago 17. Their first album was inducted into the Grammy Hall of Fame in 2014, and the band was granted the Grammy Lifetime Achievement Award in 2020. They were inducted into the Rock & Roll Hall of Fame in 2016.
---
Music videos
---
Principal members (Founding members in bold, current members in italic, members included in the band's Hall of Fame induction indicated with HOF)
Eric Baines – bass, vocals (2022–present)
Dawayne Bailey - guitar, vocals (1986–1995)
Peter Cetera - bass, vocals (1967–1985; HOF)
Bill Champlin - keyboards, vocals (1981–2009)
Jeff Coffey - bass, vocals (2016–2018)
Donnie Dacus - guitar, vocals (1978–1980)
Neil Donell - vocals, guitar (2018–present)
Bruce Gaitsch - guitar, vocals (1995)
Loren Gold – keyboards, vocals (2022–present; 2021-2022 touring)
Ray Herrmann - saxophones, flute (2016–present; 2005–2016 touring)
Keith Howland - guitar, vocals (1995–2021)
Tris Imboden - drums, harmonica (1990–2018)
Terry Kath - guitar, vocals (1967–1978, his death; HOF)
Robert Lamm - keyboards, vocals (1967–present; HOF)
Lee Loughnane - trumpet (1967–present; HOF)
Tony Obrohta - guitar, vocals (2021–present)
Laudir de Oliveira - percussion (1974–1981; died 2017)
James Pankow - trombone (1967–present, HOF)
Walter Parazaider - saxophones, flute (1967–2018, HOF; retired from touring in 2016)
Lou Pardini - keyboards, vocals (2009–2022)
Chris Pinnick - guitar, vocals (1981–1985)
Daniel de los Reyes - percussion (2012, 2018)
Walfredo Reyes Jr. - drums (2018–present), percussion (2012–2018)
Jason Scheff - bass, vocals (1985–2016)
Danny Seraphine - drums (1967–1990; HOF)
Brett Simons - bass, vocals (2018–2022)
Ramon "Ray" Yslas - percussion (2018–present)
Other Members
Kenny Cetera note - percussion (1984–1985)
Marty Grebb note - saxophone, guitar, keyboards, backing vocals (1980–1981)
---
"Should I try to trope some more?":
---