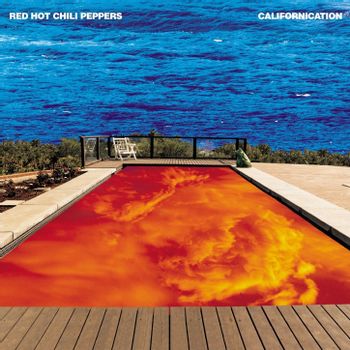 Californication is the seventh studio album by Red Hot Chili Peppers, released in 1999. It is known as the comeback album for the Chilis, and it is their most widely sold album to this day, peaking at number three on the Billboard Hot 200.
The history behind the album, its creation and its sound is a long and troubled one. At the beginning of the decade with the Peppers' massively successful fifth studio album, Blood Sugar Sex Magik, guitarist John Frusciante became completely disillusioned with the band's overnight recognition and left the band mid-tour in 1992. During his absence, he lived alone and developed a serious heroin addiction. The Chilis, meanwhile, replaced Frusciante with Dave Navarro, the guitarist of Jane's Addiction, and in 1995 released their Darker and Edgier sixth album, One Hot Minute. The latter did not perform as well due to its artsy psychedelia and the issues the band was facing at the time. The band faced internal conflicts and came close to breaking up, especially in the wake of singer Anthony Kiedis's drug relapse.
Finally, in 1997, Frusciante, on the brink of death, miraculously checked himself into rehab. He was let back into the band in 1998, and the reunited foursome, celebrating their freedom from drug addiction, released this album. Californication has since sold over 15 million copies worldwide and spawned a slew of radio-friendly hits such as "Otherside", "Californication", and "Scar Tissue" (which won the Grammy Award for Best Rock Song in 2000). It is tied with Meteora for the most cumulative weeks its singles have spent at Number 1 on Billboard Modern Rock Hits. It remains an incredibly influential album to this day.
Not to be confused with the unrelated TV series Californication.
---
Tracklist:
"Around The World" (3:58)
"Parallel Universe" (4:30)
"Scar Tissue" (3:35)
"Otherside" (4:15)
"Get On Top" (3:18)
"Californication" (5:21)
"Easily" (3:51)
"Porcelain" (2:43)
"Emit Remmus" (4:00)
"I Like Dirt" (2:37)
"This Velvet Glove" (3:45)
"Saviour" (4:52)
"Purple Stain" (4:13)
"Right On Time" (1:52)
"Road Trippin'" (3:25)
---
Bonus Disc (Australian Edition):
"Gong Li" (3:42)
"How Strong" (4:42)
"Instrumental #2" (2:43)
---
Bonus Tracks (iTunes Edition):
"Fat Dance" (3:40)
"Over Funk" (2:58)
"Quixoticelixer" (4:48)
---
Principal Members
Flea - bass, vocals
John Frusciante - guitar, vocals, keyboard
Anthony Kiedis - lead vocals
Chad Smith - drums
---
Troperfornication
---