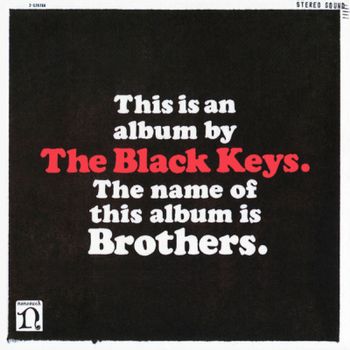 Brothers is The Black Keys' fifth studio album, released on May 18, 2010.
Prior to the release of Brothers, The Black Keys were in a Creator Breakdown from both ends, and a break-up seemed imminent. The first was when singer Dan Auerbach released his solo album Keep It Hid in February 2009, completely without drummer Patrick Carney's knowledge. Let's just say he was not happy about it. Then there was the fact that Carney's wife took money from him, cheated on him with his best friend, and hated Auerbach and tried to turn Carney against him. He had been going through a two-year divorce, where Carney engaged in heavy drinking, and had gained 25 pounds. On top of all this was their complete lack of commercial success. They never had single that charted, and none of their albums even made the Top 100 (which was even worse considering how poor albums sell in the new millennium). All hope seemed lost for both the Keys and their fans.
But then they pulled through. Carney realized that his anger had been misdirected, and after finally divorcing his wife, they got to work on their fifth studio album, titled Brothers likely in reference to themselves. Recording sessions primarily took place in the Muscle Shoals Sound Studio in Sheffield, Alabama. Many blues legends such as Bob Dylan and The Rolling Stones had recorded music there, so it was befitting of their own modern Blues Rock style. Notable in that they were the first to record there since 1984. Just when it seemed like they would be failures, they landed their first success. Brothers was their first album to chart in the Top 100. Where did it chart? #3. How many albums did they sell? It went platinum. Brothers produced their first radio hit "Tighten Up" which topped the Alternative and Rock charts and cracked the Hot 100. It was nominated for five Grammy awards, and won two ("Best Alternative Music Album" and "Best Rock Performance" for "Tighten Up"). You could say they had to earn their happy ending.
This is the page for the famous music video associated with this album. Tropes specifically related to it go on its page.
---
These are the songs on the album.
"Everlasting Light"
"Next Girl"
"Tighten Up"
"She's Long Gone"
"Black Mud"
"The Only One"
"Too Afraid to Love You"
"Ten Cent Pistol"
"Sinister Kid"
"The Go Getter"
"I'm Not the One"
"Unknown Brother"
"Never Gonna Give You Up"
"These Days"
---
These are the band members.
Dan Auerbach - lead vocals, guitars, bass guitar, keyboards
Patrick Carney - drums, percussion
---
These are the tropes the album embodies.
---
---