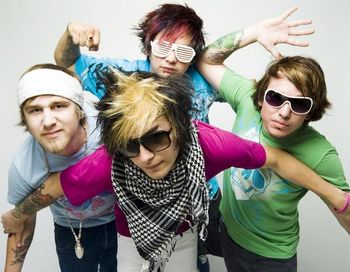 brokeNCYDE are a band from New Mexico, generally regarded as the main band of the genre of Crunkcore, which mixes together Screamo, Crunk, and Electronic Music; if you've heard a crunkcore band, chances are it's these guys.
The band was formed in 2006 by members Se7en and Mikl. They apparently named the band "Brokencyde" after coming up with an idea that the band's music was "fundamentally broken inside". They were later joined by members Phat-J and Antz. In 2008, they released their BC13 EP, and in 2009 they released their debut album, I'm Not a Fan...But the Kids Like It!, which was universally panned by critics (as well as the band's Hatedom, which is often said to be larger than their actual fandom).
---
Current Members:
Se7en - screams, rapping
Mikl - clean vocals
Former Members:
Phat J - synths, guitars, beats, backing vocals
Antz - beats, fog machine, lights, backing vocals
Discography:
several EPs and mixtapes
I'm Not a Fan...But the Kids Like It!, 2009
Will Never Die, 2010
Guilty Pleasure, 2011
All Grown Up, 2016
---
Brokencyde provide examples of:
Artifact Title: The band's name, which means "broken inside", is a remnant from their more pensive beginnings.
---