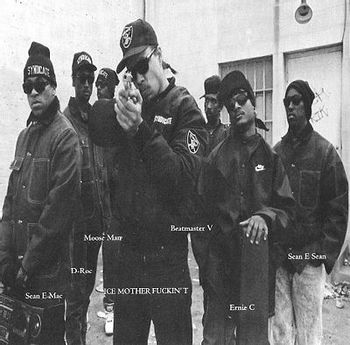 "This next record is dedicated to some personal friends of mine — the L.A.P.D. For every cop that has ever taken advantage of somebody, beat 'em down or hurt 'em, 'cause they had long hair, listened to the wrong kind of music, wrong color, whatever they thought was the reason to do it - for every one of those fuckin' police, I'd like to take a pig out here in this parking lot and shoot 'em in their motherfuckin' face."
— Introduction to "Cop Killer"
Body Count is an American Hardcore Punk and Thrash Metal band formed in Los Angeles in 1990. The group was founded by rapper Ice-T. Ice founded the group out of his interest in heavy metal, and took on the role of vocalist, writing the lyrics for most of the group's songs, while the music was written by his high school friend, lead guitarist Ernie C. Three other classmates (rhythm guitarist D-Roc, also one of Ernie's guitar students; bassist Mooseman; and drummer Beatmaster V) rounded out the band, and after debuting on the song "Body Count" from Ice's 1991 album O.G. Original Gangster, their self-titled debut album was released on Sire Records in 1992.
The song "Cop Killer" was the subject of much controversy. Although Sire Records' parent company, Warner (Bros.) Records, defended the single, Ice chose to remove the track from the album because he felt that the controversy had eclipsed the music itself. The group left Sire the following year.
After a long hiatus (partially caused by the deaths of D-Roc, Mooseman, and Beatmaster Vnote D-Roc & Beatmaster V both died of cancer, while Mooseman was killed in a drive-by shooting that targeted someone else) that saw the group only release one album in seventeen years, in 2012 Body Count signed with Sumerian Records and released their fifth album Manslaughter in June 2014. After the Manslaughter tour ended, they signed with Century Media for their sixth album Bloodlust, which was released in March 2017.
In 2018, Body Count was nominated for a Grammy Award for Best Metal Performance for the song "Black Hoodie" from their album Bloodlust. Although many predicted that they would be the likely recipients of the award, it was instead given to Mastodon. Their seventh album Carnivore was released in March 2020, peaking at a very respectable #28 on the Billboard Top Album Sales chart, second only to the original Body Count album, which hit #26, and the lead single "Bum-Rush" won the 2021 Best Metal Performance Grammy.
They are currently working on their eighth album Merciless, with a release date to be determined.
---
Discography
Body Count (1992)
Born Dead (1994)
Violent Demise: The Last Days (1997)
Murder 4 Hire (2006)
Manslaughter (2014)
Bloodlust (2017)
Carnivore (2020)
Merciless (TBA)
Current lineup:
Ice-T: lead vocals
Ernie C: lead guitar, backing vocals
Sean E. Sean: sampler, backing vocals
Vincent Price: bass, backing vocals
Ill Will: drums
Juan of the Deadnote : rhythm guitar, backing vocals
Tracy Marrow Jr. a.k.a. Little Ice: hype man, backing vocals
Guest Collaborators:
Raw Breed - rapping on "My Way" (Violent Demise)
Trigga tha Gambler - additional rap vocals on "Invincible Gangsta" (Murder 4 Hire)
Jamey Jasta (Hatebreed) - vocals on "Pop Bubble" (Manslaughter) and "Another Level" (Carnivore)
Dave Mustaine (Megadeth) - guitar and spoken word on "Civil War" (Bloodlust)
Randy Blythe (Lamb of God) - vocals on "Walk with Me..." (Bloodlust)
Riley Gale (Power Trip) - vocals on "Point the Finger" (Carnivore)
Dave Lombardo (ex-Slayer) - drums on "Colors 2020" (Carnivore)
Amy Lee (Evanescence) - vocals on "When I'm Gone" (Carnivore)
---
Trope Hoodie:
---