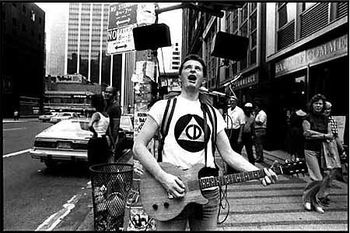 "I don't mind being labelled a political songwriter. The thing that troubles me is being dismissed as a political songwriter."
Stephen William Bragg (born 20 December 1957) is an English singer-songwriter and political activist. He started out in a pub band called Riff Raff, with a sound inspired by bands like The Rolling Stones and The Small Faces. But it was The Clash, whom he saw on the White Riot Tour and Rock Against Racism, that would change his life and align him with Punk Rock, 2 Tone and the Red Wedge.
Spending some time busking solo electric in London led to his first EP, Life's A Riot With Spy Vs Spy. His song "A New England" was later Covered Up by the late Kirsty MacColl, whose extra verse he now always adds In Memoriam when he plays it. His love songs are known for their wistfulness and their focus on very mundane and grounded working-class relationships.
In 1983, Bragg received his big breakthrough by happenstance. Legendary BBC DJ John Peel had mentioned on air that he'd really love to have some Indian food right now, and Bragg responded by buying him a mushroom biryani, rushing it to the BBC and hand-delivering it to Peel...along with a copy of Life's a Riot. Luckily for Billy, Peel absolutely loved the EP and played it on the air immediately. Bragg became a regular fixture and listener favorite on Peel's show for the remainder of the DJ's life, taped 11 Peel Sessions for the program and was even one of Peel's very few regular in-the-studio guests.
Bragg earned his first Top 40 in 1985 with the acoustic folk tune "Between the Wars", which he performed - live in the studio as opposed to lip synching - on Top of the Pops. That song was followed by several more hits in both the UK and on American alternative rock radio. His cover of The Beatles' "She's Leaving Home" made it all the way to #1 in the UK in 1988, albeit as a double A-side with Wet Wet Wet's more popular take on "With A Little Help From My Friends".
However, he's best known for his political material and grassroots leftwing activism, and his involvement with labour unionism and organized opposition to overreaching corporatism, racism, homophobia and misogyny. In the late '90s he collaborated with Wilco on the Mermaid Avenue project, three albums of Woody Guthrie lyrics never before set to music.
Studio album/EP discography:
Life's a Riot with Spy vs. Spy (1983)
Brewing Up With Billy Bragg (1984)
Talking With The Taxman About Poetry (1986)
Workers Playtime (1988)
The Internationale (1990)
Don't Try This at Home (1991)
William Bloke (1996)
Bloke on Bloke: More from the William Bloke Sessions (1997)
Mr. Love & Justice (2008)
Tooth & Nail (2013)
Bridges Not Walls (2017)
Mermaid Avenue (1998)
Mermaid Avenue Vol. II (2000)
Mermaid Avenue: The Complete Sessions (2012), which includes both of the above plus the previously unreleased Vol. III
Tropes in his work:
---