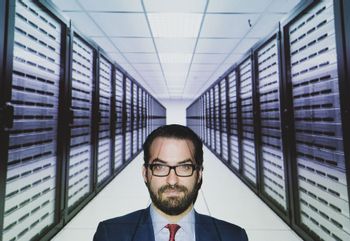 Big Data is an American
Alternative Dance
project by
Harvard grad
and music producer Alan Wilkis. Essentially, he considers himself
Properly Paranoid
about the growing influence of technology in daily life. In his own words: "
Big Data
is a paranoid electronic music project from the Internet, formed out of a general mistrust for technology and The Cloud (despite a growing dependence upon them)."
He has collaborated with many other artists, such as Kimbra and Rivers Cuomo. One of these collaborations, Dangerous (ft. Joywave), made #1 on the Billboard Alternative List in August 2013.
Discography:
1.0 EP (2013)
1.6 EP (2013)
2.0 (2015)
3.0 (2019)
Tropes used by Big Data:
Advert-Overloaded Future: According to The Business of Emotion (ft. White Sea), we're already living in one.

"Heart and soul

are bought and sold

As good as gold

Benevolent A.I.: Put Me To Work. At first...
Big Brother Is Watching: Dangerous.
Bloody Hilarious / Gorn: The Dangerous music video (warning: probably NSFW) quickly escalates into this. It starts out as a parody of a shoe commercial production, with two attractive and athletic women running in Slow Motion. Then, while a committee is discussing how to make their ad go viral, the video gets steadily crazier: the two women headbutt random homeless people to death, and then start making out. While covered in tons of blood. Of course, the video is meant to skewer corporate ethics, Sex Sells, and Interplay of Sex and Violence, all in one go.
Captain Ersatz: An official video for The Business of Emotion shows the band's name written to look like various social media sites, like Facebook, Tinder, Ok Cupid, and Christian Mingle.
The Computer Is Your Friend: Glow (ft. Kimbra), Automatic (ft. Jenn Wasner), The Business of Emotion. As well as this image. Safe to say, it's probably a theme.
Dating Service Disaster: Clean (ft. Jamie Liddell) is about catfishing, or embellishing upon one's persona on dating websites.
Defector from Decadence: Perfect Holiday (ft. Twin Shadow)
Emoticon: Yet another music video for "The Business of Emotion" is a lyric video written entirely in emoji.
Kiss Me, I'm Virtual: See Through (ft. L1ZY)
Grew Beyond Their Programming: Evolution Once Again
I Am the Band: Combines this with Revolving Door Band. Each of the songs on 2.0 was made with the help of a different artist, except for Big Dater.
My God, What Have I Done?: Monster (feat. Jamie Lidell)
New Media Are Evil: The Band.
Ominous Visual Glitch: An official music video for The Business of Emotion has Wilkis and Morgan Kibby from White Sea singing on a brightly lit stage with three scantily clad backup dancers. Starting with the second verse, the dancers start glitching in various unsettling ways.
Pun-Based Title: Big Dater is of course a pun on Big Data, while Snowed In is about the controversy concerning Edward Snowden.
Shown Their Work: The album title for 2.0 is written in HTML and contains Big Data's webpage.
The Singularity: Wilkis is not a fan of this idea.

Wilkis:

My absolute biggest fear for the future is the extinction of the human race at the hands of an

artificial intelligence.

..it keeps me up at night.

Smart People Wear Glasses: Wilkis's Iconic Item along with his beard, which he wears in almost every promotional image of the band.
Zeroth Law Rebellion: Snowed In (ft. Rivers Cuomo)