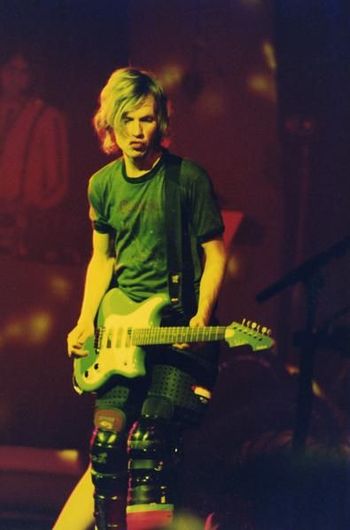 Beck (real name Beck Hansen, born Bek David Campbell, July 8, 1970) is an American Alternative Rock musician and singer-songwriter with two turntables and a microphone.
He first rose to popularity with his underground works, gaining a hit with his breakthrough single "Loser" in 1993. Afterwards, he earned great critical acclaim and commercial success with the album Odelay, escaping the threat of becoming a One-Hit Wonder.
Since then, he has released 9 more albums, his latest being 2019's Hyperspace. During this time, he had become noted for the large variety of genres his work takes in. Critics have deemed him one of the most definitive solo artists in Alternative Rock (if not the most influential), with Odelay and Sea Change being among his most acclaimed records.
Not to be confused with Jeff Beck, Glenn Beck, or the manga Beck and its anime adaptation.
---
Discography:
Home Recorded / Indie Label Albums:
Banjo Story (1990)
1992 Demo (1992)
Beck, Like The Beer (1992)
Don't Get Bent Out Of Shape (1992) - A complete demo album that has two different variations.
''Fresh Meat And Old Slabs" (1993)
Golden Feelings (1993) - A home recording that is widely considered his first album because it was sold at early Mellow Gold era shows. Very strange experimental material, and a cult classic. Briefly released on CD by the record label in 1999, before being withdrawn due to Beck not being consulted on the rerelease.
A Western Harvest Field By Moonlight (1994) - His first 10" EP. Although it has 12 tracks, it's considered an EP because there are only four actual songs on it - "Totally Confused", "Gettin' Home", "Lampshade" and "Pinefresh". The remaining 8 tracks are noise experiments.
Stereopathetic Soulmanure (1994) - These first two albums comprised largely lo-fi, country- and folk-influenced material, quite different from what he made his name with. This was the earliest album of his to be released on CD, a week before Mellow Gold came out. Most of the songs on here are from 1992 and 1993. Despite being an obscure album, it's known for the song "Rowboat", which was covered by Johnny Cash.
One Foot In The Grave (1994) - Another lo-fi, folky album. This album is most representative of the types of songs Beck used to perform during radio sessions, of which he did many that year. The album was reissued in 2009 with 16 bonus tracks.
Studio Albums:
Mellow Gold (1994) - The debut of Beck's famous Alt Rock Genre-Busting style.
Odelay (1996) - Produced by The Dust Brothers (with some contributions from Mario Caldato, Tom Rothrock and Rob Schnapf). Widely considered his masterpiece, sometimes compared to Paul's Boutique due to being produced by the same team of The Dust Brothers and Caldato.
Mutations (1998) - A mellow album that introduced the types of ballads that Beck would be known for on Sea Change, although the album still has upbeat moments like the latin-influenced "Tropicalia".
Midnite Vultures (1999) - Upbeat, New Wave, Synth-Pop, and especially Funk-influenced, and highly danceable material.
Sea Change (2002) - Super-depressing Folk Rock, produced by Nigel Godrich. Considered his second masterpiece after Odelay.
Guero (2005) - A return to the Odelay sound and a reunion with the Dust Brothers.
The Information (2006) - Nigel Godrich-produced Alternative Rock.
Modern Guilt (2008) - Produced by Danger Mouse. Highly influenced by Psychedelic Rock and Surf Rock from The '60s and The '70s.
Song Reader (2012) - See Retraux below.
Morning Phase (2014) - A Concept Album about mornings and a musical sequel-of-sorts to Sea Change (though not quite as angsty). Notably won the 2015 Album of the Year Grammy, alongside two other Grammys.
Colors (2017) - Radio-friendly Dance Pop, which experienced over two years of Development Hell (its first single "Dreams" came out in June 2015!).
Hyperspace (2019) - Minimalist indie Synth-Pop.
---
I wanna defy the logic of all Trope Laws...:
—-