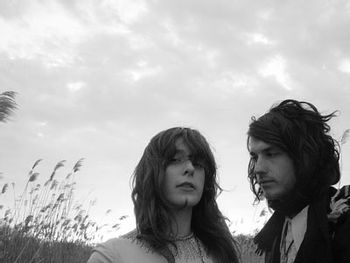 "It will take a while
To make you smile
Somewhere in these eyes
I'm on your side"
—Space Song
Beach House are a dream/indie pop duo from Baltimore, Maryland. They were formed in 2004 and consist of guitarist Alex Scally and vocalist/organist Victoria Legrand. They are known for their lush music and signature sound. Unlike most dream pop bands, they aim for a certain "theme" with their music (the duo's name should make it clear). They're also known for taking simple melodies and making them sound intense.
Their Self-Titled Album released in 2006 is usually swept under the table and forgotten about, due to its lack of real intense sound. Fans usually acknowledge its existence but try to ignore it, seeing as their work just got better. In 2008, they released Devotion, where they started to pick up their Signature Style and critical acclaim. Then, in 2010, Teen Dream was released and was again critically acclaimed.
In 2012, they released Bloom. While it isn't a cult classic like Teen Dream, it was by far their strongest-selling album, rising up to No. 4 on the Billboard Albums chart. Year-end reviews were positive, with many listing Bloom in the top 20.
Their fifth album Depression Cherry was released in August 2015. Citing a dissatisfaction with the sound of live drums, the band wanted a return to the sound of earlier albums, citing a focus on melodies and minimalism compared to Teen Dream and Bloom.
Also, it should be noted that this band shouldn't be judged on first glance. Their music is notoriously hard to get used to, but once that's accomplished, it's highly worth it.
---
Members:
Victoria Legrand – lead vocals, keyboards, guitar, bass guitar
Alex Scally – guitar, bass pedals, keyboards, backing vocals
---
Discography:
Beach House (2006)
Devotion (2008)
Teen Dream (2010)
Bloom (2012)
Depression Cherry (2015)
Thank Your Lucky Stars (2015)
7 (2018)
Once Twice Melody (2022)
---
Once Tropes Melody:
Arc Number: 7, during the lead-up to, well, 7. It's their seventh album, it brought their catalog to 77 songs, the record's initial catalog number was "777", and the debut single "Lemon Glow" was released on February 14th.note
Dream Pop: One of the many indie pop bands to take this genre.
Epic Rocking: "Irene", "PPP", "Days of Candy", "Elegy to the Void", "Last Ride", "Superstar" and "Over and Over".
Fading into the Next Song: The last 5 tracks on Devotion do this, as well as "Silver Soul" fading into "Norway" on Teen Dream.

Also "On the Sea" into "Irene" on Bloom.

Hidden Track: "Wherever You Go" is tucked into the end of the final track on Bloom, following 6½ minutes of silence after "Irene" ends.
Precision F-Strike: "New Romance" contains the line ""Fuck it", you said, "It's beginning to look like the end"". Doubles as Cluster F-Bomb if you count the repeated ILYSFMnote abbreviations.

Teen Dream doesn't have any swearing in its songs, but the booklet features an image of a couch with the word "FUCK" spelled out by big steel letters.

Self-Titled Album: Although it usually gets ignored, unlike Devotion and Teen Dream.
Three Chords and the Truth: The duo's music is purposefully minimal, often consisting of only voice, organ, and guitar, with a drum machine in lieu of an actual rhythm section. The song structures and chord progressions typically aren't very elaborate.

That being said, even though their songs don't have elaborate chord progressions, they do like the use of chromaticism here and there just to make an interesting twist.
---