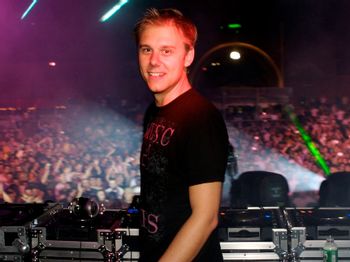 "Who am I? I'm just a humble law student from the Netherlands who's not into drugs or crazy after-partying or making lots of money. I'm just in this industry because I'm really, truly passionate about this music, and I hope that shines through."
Armin Van Buuren
Armin Van Buuren (born December 25, 1976) is a Dutch Trance music producer, DJ, and radio personality. He began making and playing music as a teenager, after listening to Jean-Michel Jarre's Oxygène.
His career began in 1995. He'd initially gone to university to pursue a law degree, but his music career began to took off, putting that on hold (he went back and graduated in 2003). He started off playing long sets at nightclubs through his home country before taking off and gaining international attention. In 2001, he began to air his well known radio show, A State of Trance, a weekly two hour long radio show showcasing the newest and hottest trance tracks. ASOT was so successful, that numerous other DJs and Electronic Music producers were inspired to created their own weekly radio shows.
Van Buuren's music style can run the spectrum of being very relaxing and calm to being fast and energetic. It can often shift between uplifting and progressive trance, with occasional influences from Classical Music and House Music. Along with his solo work, he's also one half of the duo Gaia alongside fellow producer Benno de Goeij.
Aside from his long career, Van Buuren has also been voted as the world's Number 1 DJ in the DJ Magazine Top 100 for a record five times, was nominated for a Grammy in 2014 for the song "This is What It Feels Like" (being the fourth trance artist ever to receive a nomination), was appointed Officer of the Order of Orange Nassau in 2011 for his services to music, founded his own record label called Armada Music, played the concert for King Willem-Alexander's coronation in 2013, and was chosen to remix "Let It Go" for Disney's Dconstructed album. He's been Happily Married to his wife Erika for several years and they have two children - daughter Fenna and son Remy.
His discography includes numerous mixtapes, compilations (including his yearly A State of Trance series), and these studio albums:
76 (2003)
Shivers (2005)
Imagine (2008)
Mirage (2010)
Intense (2013)
Embrace (2015)
Balance (2019)
Tropes Related to Armin Van Buuren: