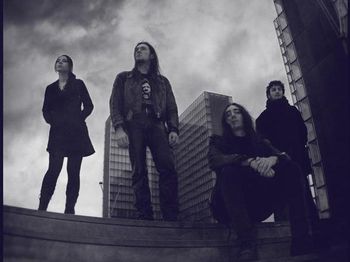 "
Swallowed by the hive
"
The band's original slogan.
Amesoeurs was a pioneering Black Metal / Shoegazing / Post-Punk band from Bagnols-sur-Cèze, France, a second forerunner for Blackgaze, a genre associated with bands like Alcest. While Alcest can be considered the Trope Codifier of the genre, Amesoeurs was the second-wing of the genre's post-punk elements.
The band was formed by Neige (of Alcest fame), Audrey Sylvain, and talented animator and artist Fursy Teyssier to show the Crapsack World of urban society, mixing in the feeling of bleakness and depression, hitting True Art Is Angsty levels, but in a good way.
Despite releasing an EP, a split with Valfunde (dead side project of Peste Noire) and having Jean "Winterhalter" Deflandre join as their drummer, the band sadly only lasted five years before abruptively ending due to arguments between the band (mainly Audrey and Neige) over the band's future, but got together one last time to record their Self Titled album as their Grand Finale.
Despite their small tenure, the band surprisingly enough had a huge impact within the post-black metal scene, causing some musicians to follow their style which surprisingly enough lead to decent sounding bands, and even helped launch Neige's career with Alcest even more than before, alongside with Fursy starting Les Discrets, Winterhalter joining Alcest and Les Discrets (although he ended up leaving the latter in 2013 by mutual agreement with Fursy to focus on Alcest), and Audrey went forward to join Peste Noire (for a while, anyway).
Amesoeurs is dead and another journey began.
Swallowed by the hive indeed.
The Artists
Neige - Bass, Guitars, Keyboards, Vocals
Audrey Sylvain - Bass, Piano, Vocals
Fursey Teysseir - Bass, guitar
Jean "Winterhalter" Deflandre - Drums
The Art
2005 - Ruines humains [EP] note
2007 - Valfunde/Amesoeurs Split
2009 - Amesoeurs
Tropes in veins...