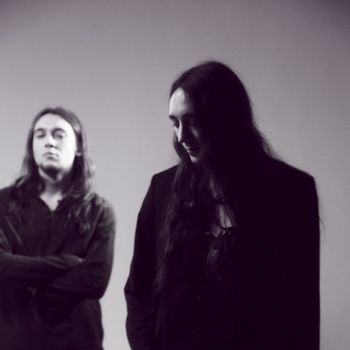 Alcest is a French Blackened Shoegaze band fronted by Neige which has served as Trope Codifier for that subgenre. They are one of the most famous black metal-related projects from France, alongside Deathspell Omega, Blut aus Nord, and Peste Noire, the latter of which contains a significant degree of personnel overlap with Alcest (nearly every significant member of each band has played with the other at some point).
While Alcest's demo was fairly run-of-the-mill black metal, their 2005 EP Le Secret was where they Grew the Beard and established the sound for which they would become famous, a mixture of the tremolo picking and Harsh Vocals of black metal and the sunny atmosphere and layered guitars of shoegaze.
Interestingly, Neige claims he had not listened to any shoegaze albums at the time he recorded this album or the following album, Souvenirs d'un autre monde, which moved even further towards shoegaze. Alcest albums since then have mostly contained various mixes of black metal and shoegaze, with 2014's Shelter being almost entirely shoegaze or Post-Rock. While blackened shoegaze tends to be a controversial affair among black metal fans, Alcest have mostly averted this reaction thanks in part to their diverse sound.
Neige credits the inspiration for this band with experiences he had as a child of being in a "far off country" which he generally refers to as "Fairy Land". Alcest is his musical adaptation of his memories from this "otherworld".
Members
Neige - lead vocals, guitar, keyboards
Winterhalter - drums, percussion
Zero (live only) - guitar, backing vocals
Indria (live only) - bass
Discography
Tristesse hivernale (2001, demo)
Le Secret (2005, EP)
Souvenirs d'un autre monde (2007)
Alcest / Les Discrets (split album, 2009)
Écailles de lune (2010)
Le Secret (rerecorded, 2011, EP)
Les Voyages de l'âme (2012)
BBC Live Session (live, 2012)
Shelter (2014)
Kodama (2016)
Spiritual Instinct (2019)
---
Tropes
---