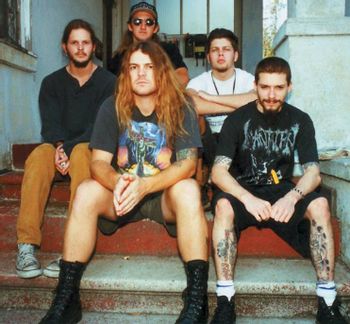 Acid Bath was an influential Sludge Metal band from Louisiana, formed in 1991. Their unique musical style combined sludge with elements of Black Metal, Death Metal, southern rock, and blues rock. While they are pretty much unknown in the mainstream, they have a significant underground fanbase and are considered a cult band by many.
In 1997, bassist Audie Pitre was killed in a road accident by a drunk driver. The band broke up soon afterwards, having released just two studio albums during their short lifespan. Despite the short career, they are considered one of the major bands of the subgenre, alongside more long lived bands like Eyehategod and Crowbar.
---
Former Members:
Dax Riggs - Lead vocals
Sammy "Pierre" Duet - Guitar, backing vocals
Mike Sanchez - Guitar, backing vocals
Audie Pitre - Bass guitar, backing vocals (deceased)
Joseph Fontenot - Bass guitar (Also an early member of Devourment)
Jimmy Kyle - Drums
Tommy Viator - Keyboards
Studio albums:
When the Kite String Pops (1994)
Paegan Terrorism Tactics (1996)
---
Tropes that apply to this band:
---
"The sound of the ocean is dead
It's just the echo of the blood in your head"