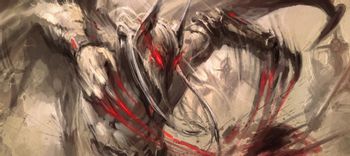 The ancient war god roars and trembling armies shuffle towards one another...
Bandos blasts each army's stragglers with fire, prompting the others to move more quickly. The two mobs meet and hack hopelessly at one another until only one remains, reduced to a handful of bleeding wretches.
A pitiful spectacle, barely worthy to be called a battle. Why can these warriors not live up to the glories of their ancestors? He rains fire on the survivors, killing half of them and sending the others scrambling over corpses to escape. He feels anger welling in him, stronger and more enduring than any he was capable of feeling as a mortal.
Bandos raises a poisonous mist to finish off the last surviving combatants. One of them raises a feeble hand towards his god, seeking desperately for mercy, but Bandos is unmoved as the last survivor chokes and dies.
They are his toys! And he will smash them if he wants to!
—
Bandos
, wrathful at his banishment at the end of the God Wars, takes his frustration out on his remaining followers on Yu'biusk,
Bandos's Memories
(Memory 12).
In the fantasy world of Gielinor, where an average quest sees the world threatened by Humanoid Abominations, Evil Sorcerers, and Artifacts of Doom, there are some villains so utterly vile that they strike fear and hatred into the hearts of even the most veteran adventurers.
---
---