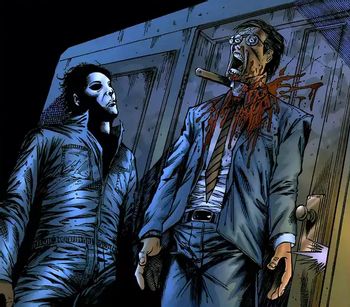 Dr. Terrence Wynn:
I was getting worried Sam, I was afraid you wouldn't make it.
Dr. Samuel "Sam" J. Loomis:
Why now?
Wynn:
Because you were the first one to see it. You recognized its power. Evil. Pure, uncorrupted, ancient...
Loomis:
You are a madman.
Wynn:
I have my plans for this baby.
Jamie
's baby, will be the dawn of a new age. And I'm asking you to join me.
Loomis:
I thought
Michael
was a monster, but you...
The Halloween franchise, beginning in 1978, greatly influenced the Slasher Movie genre. While Michael Myers himself reigns as the quintessential monster of the series, there are others equally as heinous.
---
Franchise-wide
Michael Myers, aka "The Shape", is a masked, cold-blooded Serial Killer with a fondness for carving knives. In the first film, after killing his sister at the age of six, Michael breaks out of prison as an adult and goes on a killing spree through his hometown of Haddonfield. He's stopped, but the horror doesn't end there. While the timeline diverges from then on, one thing remains constant: Michael repeatedly returns, making numerous attempts on Laurie Strode, whatever family she might have, and anybody else who gets in his way. Incapable of feeling empathy, and driven by a loathing of seemingly everybody he encounters, the unstoppable and perpetually silent Michael Myers helped define the slasher movie villain, and remains one of the most bone-chillingly evil.
Individual Films
Literature
Kelly O'Rourke's trilogyTitles : Michael Myers is the same brutal killer of Haddonfield as ever. Frequently returning to butcher teenagers, Michael kills Haddonfield's mayor and attempts to burn down the attraction in City Hall with multiple teens inside. Michael returns to slaughter everyone he encounters, terrorizing a girl for residing in his old house and murdering her friends, before returning again to the old sanitarium he was confined in to massacre a documentary crew.
Comic Books
Chaos! Comics seriesTitles : Michael Myers, as always, is the epitome of evil. After murdering his older sister at the age of six, Michael was sent to a mental institution where he tortured and murdered everyone unfortunate enough to cross his path, including boiling a fellow child to death because they took some of his birthday cake. Following the events of the second film, Michael begins stalking Tommy Doyle, once again sadistically tormenting and killing everyone he sees along the way, including decapitating someone and throwing it at their friend just to traumatize them. Even after Laurie kills him, Michael has tormented her so much that she undergoes a psychotic break and begins killing in his method, her mind long since broken from his actions.
Halloween H20 timeline comics, by Stefan Hutchinson et al Titles : Michael Myers, as a child, would fantasize about stabbing his mother when she was pregnant with Laurie. Before tracking Laurie down, Michael went on a huge murder spree, where he decapitates a beauty pageant winner; murders an elementary school teacher, then strings her up for her students to find; shoves razor blades into Halloween candy; and scoops a reporter's eyes out before replacing them with film rolls. Michael torments a dying Dr. Sam Loomis by torturing a friend of his in front of him and leaving them to die. A year after Resurrection, Michael goes on yet another killing spree, where he slashes a child's throat; kills numerous people in horrific ways, such as hollowing a woman's skull to make a jack-o'-lantern; tricks the police into killing a man under the illusion he was Michael; and follows this up by burying one of his more evasive victims alive after stripping her naked.
---