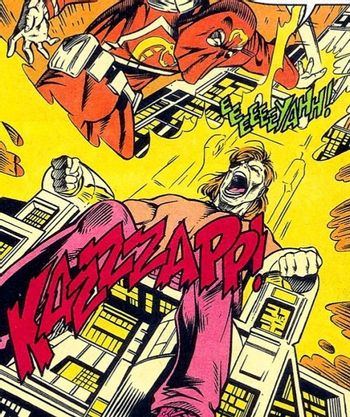 "And this is how I win the world. This juncture of course is usually where the wheels come off. But not this time. Cutting the traitor Major Bludd's heart in half right in front of you, right here in this room, should have gotten the point across. It suited me once to appear weak and cowardly because it motivated you "people" to think. But today, is a new day. There will be no move to take over my command, there will be no mistakes. There will be NONE OF YOUR CRAP! NONE OF IT! Work with me, I will give you the world in less then 24 hours. Work against me, and I will gut you like a fish. Right here."
The Real American Heroes have been facing Cobra and other threats since its relaunch in 1982. The worst of those threats threaten the entire world.
Entries for each group are by approximate release/publication date.
---
open/close all folders
Comic Books
Standalone
Extreme comic miniseries:

Iron Klaw is the main villain the military team the G.I. Joes confront in this comic miniseries, and handily the worst. The leader of the terrorist group Soldiers of Kaos, Anarchy, and Ruin, or S.K.A.R., surpassed in rank only by the Duchess, Iron Klaw murdered his way to the top position of the group, and is a horrific boss, murdering his henchmen for everything from accidentally touching him, to simply assert his ego. After murdering the Duchess when she slowly shows disgust for his homicidal plans for world domination, Iron Klaw murders a man, taking out many of his soldiers in the same instance, to steal his political position, and proceeds to steal the powerful crop hormone known as Ferti-gel, poisons it, then plans to spread it across numerous countries to plunge them into famine and drought in order to blackmail the world with his massive supply of food. Even when forced into an Enemy Mine situation with the Joes against Red Scream, Iron Klaw takes every opportunity to betray and try to murder his "allies". Iron Klaw was a complete sociopath who was only concerned with his own personal power.
Inferno is a psychopathic Mad Bomber who, though only a minor servant of Iron Klaw in the present, is revealed to be a truly wicked individual in his backstory, shown in the short arc From the Ashes. Using his pyrotechnic skills, Inferno bombed more than half a dozen military bases, killing dozens of innocent American soldiers, and follows it up by blowing up an American intelligence agency, killing more than thirty people. After bombing the recently-created G.I. Joe base, wiping out most of the starting Joes, Inferno goes on to try and kill the President of the United States with an explosive during a mass funeral for his own victims, fully aware of the dozens of military families present as well.

Reloaded:

Cobra Commander is a self-serving sociopath masquerading as a well-intentioned revolutionary. As the leader of the terrorist group Cobra, the Commander is a power-hungry madman obsessed with bringing America to its knees, and kicks the story off by blowing up the Golden Gate Bridge and the many civilians on it. The Commander's ultimate plan is to drop the Omega Black virus onto a highly-populated city, which will horrifically melt millions of innocent people, at which point he will blackmail other cities to cow to his whims. When his plans are thwarted, the Commander attempts to simply launch as many nukes as possible as he makes his retreat. Despite his supposedly benevolent attitude toward his minions, the Commander shows his true colors as he ruthlessly executes anyone who fails him, even animals, and goes on a murder spree of his own soldiers for the slightest of reasons, showing himself to be just a petty, raging bully given power.
Firefly is a mercenary-turned-Cobra agent who takes joy in classical music and blowing things up. After bombing the Golden Gate bridge in Cobra's name, killing dozens, Firefly derails a train and executes the surviving passengers with a gun to steal supplies which he uses to take over an oil rig whose staff he massacres. Firefly murders anyone who tries to approach the rig, and later mocks a Joe over the fact that Firefly killed the man's girlfriend in a previous job.

2019 series: Anastasia DeCobray, better known as The Baroness, is a cheerfully destructive Cobra officer with zero allegiance to any ideology except violence itself. Revealed to be the one who suggested the utter decimation of Indianapolis and its population to quell rebellion, the Baroness continues to suggest similarly brutal tactics in the present, threatening to destroy any and every city across America that G.I. Joe crops up in with no care for the body count. Commissioning Dr. Mindbender to perform inhumane experiments on reviving dead Cobra troops, the Baroness casually sentences a Cobra guard to be taken apart by Mindbender and shows her further distaste for her own subordinates when she snaps a Cobra operative's neck to use him as a Human Shield. The Baroness cements herself as the worst the otherwise well-intentioned Cobra has to offer in this continuity, basking in her belief that destroying hope is "beautiful".
Transformers/G.I. Joe:

Cobra Commander is the leader of Cobra in the 1930s, here interpreted as a stand-in for the Nazi regime and all the evil that involves. Enslaving the Decepticons to his will after slaughtering a monastery they were slumbering in, the psychopathic Commander forces them to lay waste to cities across Europe, with any survivors of the bloody massacres—even children—being thrown into slave camps or used as human shields. The Commander forces Shockwave to exhaust all of his energy in bombing his foes, uncaring that he's killing most of his slave labor while remarking "that's what they're for", after which Cobra Commander proclaims his intent to overrun the world with his tyrannical rule and institute himself as a god, deciding on a whim who lives and dies under his megalomaniacal boot.
Anastasia DeCobray, The Baroness, is the Nazi-esque Cobra's highest ranked leader except Cobra Commander himself, and matches her commander in cruelty. A vile sadist who enjoys torturing prisoners with tools thousands of years old, the Baroness subjects the G.I. Joe member Flint to such agony and seemingly kills him in the process. Always advocating for Cobra's more horrible crimes, the Baroness eventually initiates her master plan alongside her lover Destro, murdering their ally Starscream and unleashing the monstrous Bruticus to wipe out enemy, foe, and innocent alike in a bloody massacre. Personally betraying and killing the Commander himself, the Baroness then reveals her intent to kill even Destro, hoping to consolidate her own power once everyone who could rival her is dead.

G.I. Joe vs. the Transformers:

G.I. Joe vs. the Transformers II, written by Dan Jolley: Shockwave is a coldly ruthless Decepticon who assumed control of Cybertron after the disappearances of Optimus Prime and Megatron, and now rules it with an iron fist, crushing any rebellion against him. Scheming to invade Earth, Shockwave successfully turns the planet into a warzone, killing billions of humans and keeping countless more as slave labor who he routinely executes by the dozen when they fall behind in their workloads. When the past is altered and Earth is saved from this invasion, Shockwave instead attempts to bring about a time fracture upon Earth, bathing the planet in nuclear fire for decades and wiping out all life on the planet so he can then gut the planet of its resources, and planning to keep human survivors as experiments for him to vivisect.
Black Horizon, written by Tim Seeley:

Unicron is the Chaos Bringer, a planet-sized Transformer that devours entire planets and keeps thousands of survivors as tortured, mind-altered slaves inside his body until they die and he replaces them with new victims. Having devoured countless planets over millennia, Unicron struck a deal with Cobra-La on Earth that he would spare the planet for a few centuries until there were billions of humans populating it, at which point Unicron would return and consume them all, leaving the barren husk for Cobra-La to rule. When the G.I. Joes and Transformers try to stop Unicron as he causes natural disasters worldwide and kills countless people, Unicron sics his "antibodies" on them, gleefully boasting his plans to slowly eat them all alive in the same fell swoop that he consumes Earth.
Golobulus is Unicron's agent on Earth, ruling over Cobra-La and using his forces to scheme for Unicron's return. Capturing and twisting several Transformers into his monstrous slaves, Golobulus uses them to slaughter anyone who tries to uncover his plans, and even takes humans captive to be kept as tortured pets. Threatening and abusing his own people should they fail him, Golobulus, believing humanity to be a blight upon the Earth, summons Unicron to Earth to wipe out the entire race so that himself and Cobra-La can reign over the planet, and tries to brutally kill the G.I. Joe soldier Firewall as a "sacrifice" to Unicron in celebration of the genocide of humanity.

Danger Girl/G.I. Joe, written by Andy Hartnell: Cobra Commander is as ruthless and unhinged as often portrayed, establishing himself to his command staff by slashing a Cobra soldier to death for another's offhand insult. Planning to use unearthed nuclear missiles to wipe out millions of people across the globe and threaten countless more until they cow to Cobra, the Commander sends his soldiers to implant homing beacons for the missiles at their targets, taunting his troops all the while that he has no plans to hesitating to fire the missiles when the beacons are ready, uncaring if they are caught up in the blast.
Street Fighter x G.I. Joe, written by Aubrey Sitterson: M. Bison is the domineering dictator of Mriganka and the founder of the Shadaloo crime syndicate, using his resources to host a massive fighting tournament so as to power his Psycho Drive with the dueling energies. Teaming up with Destro as his partner, Bison also mocks Cammy over her time as one of Bison's enslaved, brainwashed soldiers, and brutally beats her to near death for fun. Bison's ultimate plan is to use his Psycho Drive to orchestrate the destruction of several major cities around the world, killing millions of people until the world cows to him, and reveals he will kill Destro as well when he outlives his usefulness.
G.I. Joe: A Real American Hero vs. The Six Million Dollar Man, written by Ryan Ferrier: Cobra Commander himself plots to Take Over the World. He starts by having Baroness and Doctor Mindbender brainwash Steve Austin, The Six Million Dollar Man, into joining them, while Commander and Cobra forces take over the massive Infinity Centre skyscraper in Switzerland, taking over the top floor and threatening the lives of the inhabitants. Promising a "bloodbath" if anybody challenges his rule, Commander has Baroness and her henchmen attempt to bring down Air Force One and kill everyone on board, ultimately aiming to prevent the signing of a global peace accord on the Frisian Islands. When this fails, Commander's contingency plan is to have Baroness activate Austin's arm—basically turning it into a nuclear weapon—and attempt to blow up the island, killing thousands of people.
Miscellaneous
Action Force: In this British comic retooling of the classic G.I. Joe franchise, Baron Ironblood, later Cobra Commander, is a sociopathic terrorist obsessed with subjugating or destroying all he surveys. Having created the terrorist organization known as the Red Shadows in a murderous campaign, Ironblood uses them to perpetrate various atrocities throughout the comic, from attempting to wipe out entire cities to planning full-scale invasions of countries at a time, promising to paint the streets red with blood, until, finally annoyed at his constant losses, Ironblood betrays his entire organization to be wiped out by Action Force, ditching them to their fates while he restyles himself as Cobra Commander, creating a new group called Cobra in the process. With this new group, Cobra Commander's evil only increases, as he tries to kick-start wars, enslave London, and finally infect all of humanity with a plague, the cure for which he will only give to those who will bow down to him. Cobra Commander is also a horrific boss to his minions, subjecting them to training that kills dozens of them at a time, executing them for the pettiest of slights, and feeding them to ravenous beasts regularly for his own amusement. Be it as Ironblood or Cobra Commander, this power-hungry madman would let no man, woman, or child come between him and his goals, and he kills thousands of them to illustrate this point.
Animated Works
A Real American Hero continuity:

The Movie: Golobulus is the ruler of Cobra-La and by far the most depraved villain to come from the original animated series. An ancient serpent entity who once lorded over Earth, Golobulus emerges from a deep hibernation thousands of years later to the sight of humanity having blossomed. Refusing to share the planet with anyone else and finding humans to be disgusting apes, Golobulus created the terrorist organization Cobra and installed Cobra Commander as his puppet, using the group to commit a variety of atrocities against the human race in an attempt to exterminate or subjugate them. Tired of Commander's constant inept failures, Golobulus painfully transforms the man into a snake, then reveals his plans to repeat a similar process on the entirety of humankind, reducing billions to submissive beasts for Golobulus to lord over. When the G.I. Joes attempt to thwart his plans, Golobulus sadistically brutalizes and tries to murder them all, bragging his intent to bathe in their blood before moving on to conquer all humans.
DiC run:

"The Sludge Factor" two-parter & "Infested Island": Cesspool, once Vincent D'Avella, was a corrupt businessman peddling poisonous chemicals as "super growth" serum, uncaring of the horrid environmental damage he caused. After being exposed to his own chemicals and dubbing himself Cesspool, the madman pretends to ally with Cobra in a scheme to hold a massive food supply hostage, only to reveal his true intentions are to irradiate the entire planet, hoping to destroy the Earth and all life on it for sheer hatred of all things that symbolize life. Cesspool later tries to sic an army of mutated bugs onto cities across the world, endangering countless innocents while he tries to mutate several G.I. Joes into his insectoid slaves.
"The Greatest Evil" two-parter: The Headman is a far darker villain than the common variety of Cobra agents G.I. Joe faces. A wicked drug dealer who has reduced an entire neighborhood to ghoulish addiction and agony, deliberately addicting children and using lethal force against anyone who stands in his way, the Headman soon enough introduces his new "Spark" drug to the market, the immensely potent, lethal drug driving its victims mad or into near-death comas. Intending to spread Spark on a global scale and bask in the ensuing fortunes despite the suffering it will cause, the Headman takes two of his addicted victims as hostages when G.I. Joe and Cobra team up to take him down, and attempts to douse several members of each group with concentrated Spark to horribly kill them all with the toxic chemical. Even after getting hit with the concentrated Spark, the Headman hits the self-destruct sequence for his base, trying to ensure the Joes and Cobra die as well.

Extreme: Iron Klaw is the maniacal leader of SKAR (Soldiers of Khaos, Anarchy and Ruin), using his public guise of Count Von Rani to cover up his heinous acts. Iron Klaw abuses and threatens his own minions into submission and regularly endangers innocents in his schemes for power, never hesitating to test out a new weapon or acquired Kill Sat on entire cities. In one of his most horrific crimes, Iron Klaw subjected dozens of captured men to experiments that left them mutilated monstrosities that he abandoned to die, and when the sole "success", Wreckage, lost his memory, Iron Klaw manipulated him into believing America was behind his trauma, and uses him as a weapon that he discards as soon as he runs out of usefulness. Iron Klaw's grandest scheme comes when he invades a meeting of dozens of world leaders and infects them all with a deadly plague, using them as hostages to enable his takeover of America, and, when Iron Klaw's attempts to gain control of America's nuclear weapons to use in a conquest of Earth fails, he orders the world leaders be burned alive and their screams broadcasted for all his enemies to hear.
Sigma 6: Cobra Commander is as bombastically villainous as always, and despite the heavy censorship of this series, stands out as a purely evil warlord. Using "Thor's Hammer" to obliterate the G.I. Joe base of operations, the Commander then attempts to use "Thor's Hammer" to carve off the entire East Coast of America so as to invade it and create his own country, uncaring of the massive casualties that would ensue. The Commander pulls off a variety of other terrorist acts that endanger many innocent people—all while threatening the lives of his minions and command council for the slightest of failures—and reaches the apex of his evil when he unveils the Terrordrome. Using the Terrordrome, the Commander throws all of Earth's weather into catastrophic conditions, causing floods and forest fires worldwide that endanger countless lives, and follows it up by threatening to leave entire countries in these conditions while revealing he has frozen all of the world's leaders alive to serve as trophies to his conquest.
Resolute: Cobra Commander is the ruthless leader of the international terrorist organization Cobra, and this version is a far cry from his previous versions. Appearing before the United Nations via a hologram, Cobra Commander wipes out Moscow and its population of 10 million with his Kill Sat and announces he will do the same to more nations if the world hasn't surrendered to him within 24 hours. After the G.I. Joes begin thwarting his plans, Cobra Commander orders his soldiers to destroy cities randomly until the world gives him what he wants, then kills one of them for informing him they have to recharge the weapon first. When the Joes locate his base, Cobra Commander proceeds to freak out, slaughter his entire command center, and try to use his satellite laser to obliterate Washington, D.C. before being stopped by the G.I. Joes.
Renegades:

Cobra Commander/Adam DeCobray is the cruel, calculating head of Cobra Industries, who uses the supposed philanthropic organization to mask the terrorist activities of the group "Cobra". The Commander utilizes Cobra for a variety of crimes, from developing a bioplague to wiping out entire towns when they halt Cobra development, all while silencing any potential leaks and ruthlessly executing or punishing his subordinates, notably sealing a metal mask around the face of James McCullen and dubbing him "Destro". To combat the Joes, the Commander threatens their entire families with death, kidnaps one of their number to experiment on, and frames them for heinous crimes committed by Cobra itself. After his bevy of plans to Take Over the World through more subtle methods are consistently thwarted by the Joes, the Commander forgoes all attempts at obscurity and tries to lead a full-on invasion of various countries using the M.A.S.S. device.
Dr. Mindbender, real name Brian Bender is portrayed here as a more youthful, monstrous incarnation of his usual depictions in media. A psychopathic Mad Scientist who develops the Bio-Viper army for Cobra, Mindbender experiments on innocents to assist in his projects, and works with Baroness in ordering the deranged Firefly to destroy a small town and its inhabitants. Torturing the twin psychics Tomax and Xamot in an attempt to use their powers for Mind Rape, Mindbender later tries to destroy Brooklyn, New York just to distract the Joes from his activities, and interrogates and threatens a young child for information in the same episode. As Cobra develops the M.A.S.S. device, Mindbender cheerfully tests it on Cobra's own soldiers, uncaring of any deaths it causes, before trying to send Snake Eyes through it and kill him while making his best friend Scarlett watch.
Films & related works
The Rise of Cobra & Retaliation
Kenta is a power-hungry Yakuza boss who was once the heir apparent to the Arashikage clan. Banished and losing his claim to the clan when he tried to murder his rival, Tommy, Kenta began arms smuggling and war profiteering to form an alliance with Cobra. Working with his new partner Snake Eyes to manipulate Tommy, Kenta sacrifices the lives of dozens of his men in service of a staged fight, and later burns another alive to test the Jewel of the Sun. Upon properly obtaining the Jewel, Kenta marches on the Arashikage fortress and massacres all in his path, planning to wipe out the entirety of the Arashikage as punishment for his banishment, after which Kenta betrays his partner the Baroness to keep the Jewel all to himself for more intended atrocities.
---