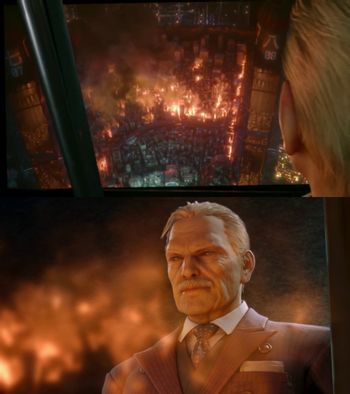 Kefka Palazzo:
I will destroy everything... I will create a monument to non-existence!
Party Member: Life will go on! There will always be people, and dreams!
Kefka: No! I will hunt them down. I will destroy it all! Destroy! Destroy! Destroy!!
Party Member: We won't let you harm another living being!
Kefka: Hee-hee-hee! But what's the fun in destruction if there are no "precious" lives lost?
Here are the vilest, most head-explodingly evil characters in the Final Fantasy franchise.
---
open/close all folders
Main Series and Associated Works
Non-connected games
Examples
Compilation of Final Fantasy VII
Examples
Professor Hojo may not be the primary antagonist, but is responsible for nearly everything bad happening in the game. Prior to the game proper, he injects Jenova cells into the womb of his wife, Lucrecia, in order to turn their son Sephiroth into a Super Soldier. He later murders Aerith's father and experiments on both her and her mother, his research leading to the latter's death. Throughout the game he is implied to manipulate most, if not all, of Sephiroth's actions, because he thinks of Sephiroth as research he wants to see blossom. He attempts to mate Aerith with Red XIII to create a half-human hybrid; experiments on the survivors of the Nibelheim massacre; murders Vincent, experimenting on his corpse and turning him into a half-monster; and attempts to help his son destroy the world at the end of the game. Dirge of Cerberus reveals Hojo to have copied his mind into the body of an experimental super soldier and used him to order other experimental super soldiers to commit mass kidnappings and murders, with the ultimate goal of awakening Omega and fusing with it.
Before Crisis prequel: Fuhito is a scientist for the original AVALANCHE. Fuhito, who idolized Hojo, found a way to copy part of Shinra's SOLDIER program, which he uses to create his own variants; this degrades the mind of the victim, and turns said victim into a monster. He takes two of the SOLDIERs Zack later remembers and turns them into abominations on par with Hojo's aberrations. He later finds an ancient Ultimate Summon that has been broken long, long ago. He builds on Hojo's having implanted a piece in an innocent girl, transforming her into a weapon to be AVALANCHE's spearhead against Shinra, while the piece starts sucking out her life to rebuild itself. He establishes a firm power base to release the Summon, which would burn the entirety of the world. In the end, he winds up taking it all and merging with it.
Final Fantasy VII Remake:

President Shinra is the leader of Midgar and the President of Shinra Electric Power Company, which powers Midgar with the Mako Energy from the planet's Lifestream, with Shinra uncaring of what will happen to the planet if the energy runs out. When AVALANCHE fights back against Shinra, he has his men destroy Mako Reactors 1 and 5, endangering many lives while framing AVALANCHE for the crimes. In order to get rid of AVALANCHE for good, Shinra orders Sector 7 to be destroyed, resulting in the deaths of many innocent lives, while framing AVALANCHE and accusing them of being allies for Wutai in order to have a excuse to go to war with them. After Aerith is captured by the Turks, Shinra plans on using her to lead him to the "Promised Land," while also allowing Hojo's plan on having Aerith raped by SOLDIERS in order for her to reproduce to "mitigate the risks". Afterwards, he plans on abandoning Midgar and its people and then building a new Midgar in the "Promised Land" with unlimited Mako Energy for him to rule. A cruel and vile businessman who believes that truth, justice, honor, and freedom are "vain indulgences", President Shinra will gladly kill anyone in order to achieve his own personal desires.
Don Corneo, the lord of Wall Market, is a ruthless Mafioso fully on board with Shinra's plan to bomb Sector 7 to oblivion with the promise of a new and improved Wall Market to reign over, and has no compunction calling himself a "villain". A sickening pervert, Corneo is known for claiming nightly brides, from willing and unwilling women alike, passing others to his men to be "enjoyed" by them. Once he is done, the women are fed to his monstrous pet Abzu, a pattern that continues for a very long time, with not even the loved ones of his own subordinates safe.
Examples
Final Fantasy Tactics:

Hashmal(um) is second only to Ultima/Altima in the Lucavi and is the demon possessing Folmarv Tengille. The mastermind of nearly every misfortune in the game, Hashmal manipulates the massive war that claims countless lives so he can manipulate the resurrection of Altima. Upon confronting Ramza, who had learned that the Ultimate Church was corrupt, Hashmal massacred all present, including his host's own son. Tricking others into being possessed by the Lucavi and broadening the monstrous conflict, Hashmal kidnaps Ramza's sister Alma to use her as the host of Altima, only caring about creating more death and destruction to revive Altima and unleash her upon the unsuspecting world.
Dycedarg Beoulve is a ruthless schemer obsessed with achieving more power for himself. The elder brother of the hero Ramza, Dycedarg slowly poisons their own father over the course of years to kill him and take control of the noble family. To gather even more power, Dycedarg helps plunge Ivalice into a brutal civil war against Duke Goltanna. Dycedarg proceeds to backstab and murder his partner before allying with the demonic Lucavi, even murdering his brother Zalbaag. Unlike most of the Lucavi, Dycedarg seems to be a willing host to his demon, and while he may claim to have good intentions, he is merely a hypocrite willing to resort to any means to obtain the power he craves.

Final Fantasy XII: Judge Bergan is a ruthless Judge Magister of the Archadian Empire. He supports Vayne Solidor's rise to Emperor because he admires his desire for power and the ruthless means he uses to achieve his ends. When his ally Judge Drace accuses Vayne of murdering his father to take the throne, Bergan gleefully strikes her down and is the only Judge who is unmoved by her execution. Later he and his fellow Judges travel to Mt. Bur-Omisace, a major religious site and home to many refugees, to retrieve Vayne's brother Larsa. While there, Bergan leads a slaughter of the innocents who live there and murders the religious leader known as the Gran Kiltias. Even though the men he served had good intentions, Bergan was simply interested in power.
Vagrant Story: Romeo Guildenstern is a power-hungry man cloaking his ambitions under false piety. Abusing the woman in love with him, Guildenstern slaps her hard enough to draw blood. Hiding his devotion to the forces of darkness by attacking one of their temples with his forces, Guildenstern, in his lust for power, throws aside his religious facade and sacrifices his abused lover in return for immense power. With his newfound strength, Guildenstern intends to take his rule worldwide and enact a cruel dictatorship in which he is worshipped above all else.
Others
Other Games
Other Media
Legend of the Crystals: Ra Devil is a malevolent cyborg who seeks to become Deathgyunos, the God of Oblivion. He stole Cid Previa's brain from his grave before murdering Cid's young grandson Mid. He then kept the brain alive and in torment to forcibly extract the knowledge of the elemental crystals that stabilize the world. Returning to Planet R two hundreds years later, Ra Devil steals the crystals, dooming the world to destruction. Setting sight on the Wind Crystal, he launches raids on Rouge Island and later the city of Tycoon. He then abducts the heroine Linaly, whose body hosts the the Wind Crystal and uses her as a battery to drain the energy of the universe and complete his transformation. After the heroes interrupts the process, Ra Devil fights them back and sadistically electrocutes Prettz and Rouge in front of their friends.
---