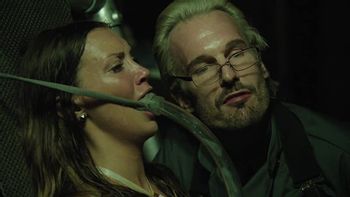 "You know, I've always measured my success by counting the number of victims I've had. But now, I think I'm going to widen my scope and start counting the number of Earths I conquer instead. You want to go home? Let's go. After all, this Earth has already been brought to its knees."
Of the many characters populating the Arrowverse, here are the most awful and atrocious, ranging from street-level drug dealers to god-level entities.
Shows are listed by first airdate. Other universes may be found at their respective pages here or here
---
open/close all folders
Pre-Crisis (Earth-1 unless noted)
Examples
Crisis on Infinite Earths (2019)
Mobius, the Anti-Monitor, is a being born of the Anti Matter universe. Manipulating Dr. Harrison Nash Wells into freeing him, Mobius sadistically curses him to be his "herald", "Pariah", forcing him to try to warn universe after universe of Mobius's coming, to no avail, all while Mobius obliterates them, feeding on the new antimatter he leaves in its place. After consuming countless universes, Mobius wipes out almost all existence and engineers the death of of his goodhearted counterpart Mar Novu, the Monitor. Upon his actions being reversed, Mobius simply returns to obliterate existence again, to rule over what remains as its god king.
Post-Crisis
Batwoman (2019): Miguel Robles, a corrupt member of the Crows, is also the murderer of Lucius Fox. Having accidentally shot Fox when sent to beat him for his journal, Robles attempts to cover his tracks by sending assassins after those who can expose him. When this fails, Robles takes on the mantle of the deceased Detonator, kidnapping people and tying them to explosives with chances to save themselves by pressing a detonator to destroy a building that contains information that might incriminate him. His final target is Wayne Tower, uncaring if he kills dozens or hundreds of innocents to escape his punishment.
---