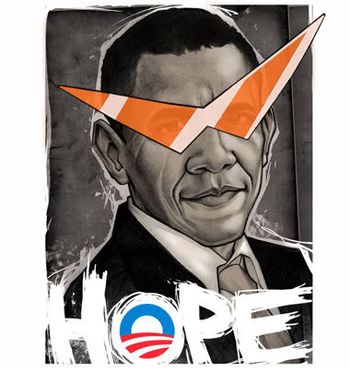 Politics are a great source of memes (which is not that surprising considering the kind of stuff that escapes the lips of certain politicians), but there's something about American politics that makes memes about it require its own page.
We've got binders full of memes for you below. When adding an example, please write the meme, then add the explanation of the meme inside a labelnote titled "Explanation." Explanation This is just the example. Follow it this way. Explanations are not optional, on this page or any other.
---
open/close all folders
In General
Pre–21st Century
Pre–1950
1950–1959
1960–1969
John F. Kennedy:

John Fitzgerald Kennedy would like to say... Ich bin ein Berliner! Explanation
Pay any price! Bear any burden! Explanation
"Ask not what your country can do for you, but what you can do for your country." Explanation
"We chose to X, and do the other things, not because they are easy, but because they are hard!" Explanation

Lyndon Johnson:

"In your heart you know he's right... but in your guts you know he's nuts." Explanation

Even more pointed was the twist on the phrase that attacked Goldwater's hawkishness and expressed willingness to use atomic weapons: "In your heart, you know he might."

Further to that, Johnson's running mate, Hubert Humphrey, gleefully came up with a refrain that all of the legislation that had been widely supported in a bipartisan fashion had been supported by most Americans... But not Senator Goldwater!
1970–1979
1981–1989 (Reagan Era)
1989–1993 (George H.W. Bush Era)
George H. W. Bush:

"Read my lips: No new taxes."Explanation (Even in the Animaniacs presidents song: "And President Bush said 'Read my lips'...")
"We should be more like The Waltons and less like The Simpsons."Explanation

Dan Quayle

Before the "Bushisms", there were the Quayleisms:

Potato or potatoe?Explanation
"I have made good judgments in the past. I have made good judgments in the future."
"It's about whether we're gonna go forward into the future, or past to the—to the back!"
"You take the UNCF model that what a waste it is to lose one's mind or not to have a mind is being very wasteful. How true that is."Explanation

Quayle kept addressing Murphy Brown like she existed in Real Life.
"Senator, I served with Jack Kennedy. I knew Jack Kennedy. Jack Kennedy was a friend of mine. Senator, you're no Jack Kennedy."Explanation

The 1991 election for the seat of governor of Louisiana became well-publicized after Edwin Edwards, a well-established figure with a growing reputation for being a fairly "standard" crooked politician, ended up running against David Duke, a Neo-Nazi and former leader of the Ku Klux Klan. Before long, the election made nationwide attention, with such signs as "Vote for the crook -- it's important!" and "Vote for the lizard, not the wizard!"
"I am the son of Greek immigrants."Explanation
1993–2001 (Clinton Era)
Bill Clinton:

"It's the economy, stupid." Explanation
"I smoked, but I didn't inhale." Explanation
I hope you don't mind where I put this cigar, kiddo....
He did not have sexual relations with that woman ... lipbite Miss Lewinsky.Explanation
That depends on what the meaning of the word "is" is. Explanation
This meme feels your pain.
Did somebody say... political memes?◊
"Vast, right-wing conspiracy..." Explanation
VINCE FOSTER Explanation

Ross Perot is a walking, talking generator of memes.

"Giant sucking sound." Explanation

Bob Dole:

You know it, I know it, and the American people know it.
Bob Dole knows that Bob Dole is a meme machine.
Viagra is the shit. You know it, the American people know it, and most especially Bob Dole's pocketbook knows it.
"And if you really want to get involved.... (looks mildly annoyed) just tap into my... homepage: www, dot, dolekemp96, org."

Jews for Buchanan! Explanation
The racist spam "The Long March" in general. Helps that it seemed to hit every inbox in America at once in 1995.
James Traficant:

"Beam me up."Explanation
James Traficant's toupée is self-aware and plans on running in the next election.Explanation

Nice to have a Long Dong Silver fan on the bench. Explanation
While being arrested in a sting for cocaine use and possession, DC Mayor Marion Barry uttered the classy line: "Bitch set me up!"
2001–2009 (George W. Bush Era)
George W. Bush:

Any number of "Bushisms" during the early days of Dubya's presidency. He is, after all, the decider.
Kanye West is mad at him because he "doesn't care about black people".Explanation
You have to give Bush some credit. Bush did not "forget Poland".Explanation
"Thank you. ...now watch this drive." *golf swing*
The, uh... Internets and The Google.
Defining Bush's Memetic Mutation in one word: "Strategery"
"Fool me once, shame on – shame on you. Fool me – you can't get fooled again." Explanation
I know how hard it is to put food on your family.
'Axis of Evil' - George W. Bush via David Frum.
"Stay the course"/"Mission accomplished"
Bush did have some badass dodging skills when he went up against that shoe. Perhaps he's a ninja?

Ralph Nader receives 3% of popular vote
Ladies and gentlemen... We got him.Explanation
Rudy Giuliani didn't 9/11 have the time to think about 9/11 memes when he was mayor 9/11. Cause that was 9/11 when 9/11 happened, you know?Explanation

It was even funnier when he went on Fox and said that no terrorist attacks had happened on US soil during the time George Bush was president, seemingly having forgotten about 9/11.
"There's only three things he mentions in a sentence: a noun, a verb, and 9/11."—Joe Biden. Everyone else, too, but Biden first.
The correct spelling of his name is actually 9iu11ani.

2004 Democratic presidential candidate Howard Dean is going to Washington, D.C. to take back The White House! Yeeeaaaah!!
John Kerry:

John Kerry was for this meme before he was against it.
You may not be aware, but John Kerry served in Vietnam.
He also wishes to know who among us does not love NASCAR.
He forgot Poland!Explanation

HE BOTCHED IT!
MR. KERRY!
Believe it or not, there was an entire set of memorabilia being sold around the Internet that had to do with Bush not forgetting Poland.Explanation

And he won three Purple Hearts!

Miserable failure.Explanation
Former senator Larry Craig (R-Idaho) is known for denying being gay ("I am not gay; I never have been gay.") after trying to deny a guilty plea to soliciting sex (by tapping his foot) in a Minneapolis airport men's bathroom, where his hand and foot were close to the stall divider because he had a "wide stance".
Al Gore:

Al Gore invented the Internet. Explanation:
From a lockbox. Explanation:
He didn't invent the Internet, but he did invent global warming.

Former representative Bill Jefferson (D-Louisiana-2nd) is probably best known for having a wad of cash found in his freezer.
The one word that dethroned George Allen: "macaca".Explanation
Ted Terbolizard in California. We don't know what he's running for and we're not sure about his platform, but isn't that an awesome name?

Unfortunately, an Idaho guy named Pro-Life (formerly known as Marvin Richardson, but who legally changed his name just to have that name on the ballot) didn't seem to get much traction.

Ted Stevens:

"The Internet is not something that you just dump something on. It's not a big truck. It's a series of tubes."
Did Ted Stevens ever come up with a meme? NO!! No he did not!
If only he had gotten that "Internet" that his staff tried to send him...Explanation

Shelley DraculaCunt Sekula Gibbs
2009–2017 (Obama Era)
Barack Obama:

"I've got a crush on Obama."
Now let me be clear. Hope. Change. More hope. Change we can believe in. Have I made myself clear?
This is the moment in time in which the seas shall recede and the earth will begin to heal
Sin is going against my values
Yes, we can!
Obama himself turned into a meme after a while, with claims of his Memetic Badassery growing to sizes rivaling even those of Chuck Norris. The political epic The Obamadämmerung grew out of one of these.
Barack Obama is your new bicycle.
And then there was the time someone found Obama imitating his Jive Turkey friend in the audiobook for The Audacity of Hope. Needless to say, the appeal of the President of the United States talking about "these motherfuckers" proved strong.
He thinks that Kanye West "is a jackass"!
Not even a beer summit can resolve this...
He's also The Joker.
Sorry!: "Mr. Long Legged Mack Daddy!"
Barack Obama: Finally, A Badass President
Whoomp There It Is◊
The Republicans drove the car into the ditch. And after we pushed it out, they said "alright, give me the keys back" and we said "no, you just drove it into the ditch!"
"I've been to something like, 57 states".
Don't call my bluff, Eric.
After his lackluster performance during the first presidential debate from the 2012 election, he owned Mitt Romney during the second debate with two words: "Please proceed...", when Romney tried to criticize Obama for his handling of the attack at Benghazi in September 2012. Instead of having Obama pinned down, Romney himself was fact-checked by debate moderator Candy Crowley.

Bill O'Reilly:

Fuck it! We'll do it live!
Sun comes up, sun goes down. Never a miscommunication. You can't explain that.

Tide goes out, tide comes in. Never a miscommunication. You can't explain that.
Put even number of socks in dryer, pull out odd number. You can't explain that.
Put garbage on curb in morning, come home and find it gone. You can't explain that.

Oh yeah? Well, who put the sun there? Who put the moon there? You can't. You can't explain it.

From the crowd behind MSNBC's Democratic convention desk, "BRING BACK CRYSTAL PEPSI!"

The image with that and a sign right next to it saying "I SHAVED MY BALLS FOR THIS!?"

Someone made a write-in vote for "Lizard People" in Minnesota in 2008. At least, that's what the judges ruled.
Dennis Kucinich:

Dennis Kucinich's UFO sightings went pretty memetic during the primaries.
Hell, everything about him was a cartoon character at some point. Typical of a Congressman from California. Oh wait, he's from Ohio?
His height (5 foot 7 inches), which was parodied to ridiculous extremes in Late Night and The Simpsons.

Let's talk about how memes affect Joe the Plumber.
All fist jabs must from now on be called terrorist fist bumps.
John McCain:

For five-and-a-half years, John McCain couldn't enjoy memes because he was a POW in Vietnam. FIVE AND A HALF YEARS, ALAN.
Speaking of McCain, it seems every joke ever made about him was in regards to his age, usually something along the lines of him battling dinosaurs as a youth. Jay Leno's run on The Tonight Show virtually always used age as a punchline to anything McCain related. It reached the point where McCain started to make these kinds of jokes about himself in less serious appearances. And he didn't even look that old.
And he's a MAVERICK!
The FiveThirtyEight comments section produced "This is GREAT NEWS...for JOHN McCAIN" which has since spread to other sites.

Sarah Palin:

Tina Fey can see Russia from her house. Explanation
Gosh-o-golly...
Sarah Palin hunts moose and wolves from her helicopter.
Levi Johnston: he is a f** kin' redneck who likes to snowboard and ride dirt bikes. But he lives to play hockey. He likes to go camping and hang out with the boys, do some fishing, shoot some sh* t and just f** kin' chillin' I guess. Ya f* ck with him he'll kick ass.
What's the difference between a hockey mom and a pitbull? Lipstick!
We're not the party of no. We're the party of Hell No! (Although she was quoting Boehner.)
Can we count on your support for the The Sarah Palin Hookworms Conjecture?
Refudiate... Shakespeare liked to coin new words too!
Look at the mama brown bear. She's showing her cubs that nobody's gonna do it for you, you have to go do it for yourself. And that's what we're trying to do with the American people.

Well, Todd built on the fence to keep the neighbors from looking in. We built the fence ourselves. I think that's what we should do with the border.

Don't retreat, reload!

Barbara Boxer: "Don't call me ma'am!"
The Notorious RGB.Explanation
Al Sharpton so eloquently said "Resist we much".
Herman Cain:

Herman Cain says it's your own damn fault for being poor.
Herman Cain's 9-9-9 plan is so simple, anybody can understand it.

We're dealing with apple and oranges. Just very apple-like oranges and very orange-like apples.

We'll build an electrical fence on the border. (Just kidding (Unless you're into that kind of thing, in which case, totally)).
Who is the president of Ubeki-beki-beki-stan-stan? Herman Cain doesn't know either.
Imagine there's no pizza.
"I believe it comes from the Poekeemon movie."Explanation

Party of No.Explanation
From the Tennessee Gubernatorial election, we get: "Hi, I'm Basil Marceaux Dot Com. VOTE FOR ME AND IF I WIN I WILL IMMUNE YOU FROM ALL STATE CRIMES FOR THE REST OF YOU LIFE! (Except violating a citizen rights this would be a special punishment)
"I got this thing and it's fucking golden..."Explanation
By the end of his terms TV Tropes will need an entire Memetic Mutation page just for the lines that have sprung out of the anti-Obama protests, especially the You Make Me Sic examples.

Descent is the highest form of patriotic.
BIRTH CERTIFICATE WHERE OBAMA WHEREExplanation

"NOBAMA!" "Yes Bama did."

Birthers want to see Obama's penis! In a totally not gay way. ...Really, they should take him out to dinner first.
Joe Wilson: You lie!Explanation

Do we really not have "teabag" yet?

GET A BRAIN MORANS◊!
"Well, I think Obama was kinda a dick."

As a commentary on Fox News' general style of reporting, people will often work the phrase Glenn Beck raped and murdered a girl in 1990 into longer paragraphs, never actually making the libelous claim that Glenn Beck raped and murdered a girl in 1990, but rather refuting, probing, or questioning the idea that Glenn Beck raped and murdered a girl in 1990, while still working the phrase Glenn Beck raped and murdered a girl in 1990 into the paragraph as often as possible, using Bold Inflation to ensure the first phrase that catches the eye is "Glenn Beck raped and murdered a girl in 1990."
Nancy Pelosi:
"Hey, hey! Ho, ho! [insert name/issue here] has got to go." Heard at every rally every time everywhere.
Aretha Franklin's ludicrously impressive hat from Barack Obama's inauguration has taken on a bit of a life of its own.
Joe Biden. Good God, Joe Biden is a living Internet meme:
Pete Hoekstra's comparison between the Iranian student revolution and the Republican shutdown of the House quickly became mocked on Twitter (e.g., "I took one Tylenol and had a nap. Now I know what it was like for Heath Ledger.").
South Carolina Governor Mark Sanford (R) created a meme when he lied to his staff about going "hikin' on the ole Appalachian Trail" while he was actually in Argentina visiting his mistress.
Not intended to be a factual statement.Explanation
Marco Rubio's Water Break. Explanation
Pizza is a vegetable.Explanation
What does Roy McDonald say about Gay Marriage in New York? "FUCK IT, I'M TRYING TO DO THE RIGHT THING."
Football makes you an expert on homosexuality, what with all those tight ends.Explanation
Sue Lowden made headlines by saying people should pay for healthcare by bartering with chickens, often referred to as "Chickens For Checkups" (a reference to "Cash for Clunkers")
"Release the Kagan!" Explanation
Ron Paul:

RON PAUL REVOLUTION.
Google Ron Paul!
And his amazing hypno-blimp!
RON PAUL 2012! WHOOO!!
Why isn't anybody paying attention to Ron Paul?
"Should we let that person die?" [crowd screaming yes]
After his nomination in 2008 failed: YOU COULD HAVE STOPPED IT!

A picture was taken of congressman David Wu, while he was dressed like this◊.
Hank Johnson:
Gary Johnson just made his neighbor's dogs very famous...
Invisible Obama.Explanation
"______ didn't believe in ______, and he/she still did his/her damn job!" Explanation
Thanks, Obama! Explanation
Oh, and one more thing, Jesus told me to make Randall Terry gay.
If you like your health care plan, you can keep your health care plan. Period.Explanation
"Job creator/death tax" is not a meme.Explanation
Rick Santorum:

A paper towel is not a napkin.
Rick Santorum's two racial fuck-ups. "I don't want to make black people's life better" (as well as his ridiculous excuse, that he just said "blah people"), and - talking about Obama - "anti-government nig-...uh..."

Florida Governor and later U.S. Senator Rick Scott's has been compared in appearance to Mr. Clean◊, Skeletor, Lex Luthor (usually ties with him being a Corrupt Corporate Executive), and Lord Voldemort (this one has been used several times on The Colbert Report).
Mitt Romney:
Tom Wheeler: I'm not a dingo.Explanation
"If it's a legitimate rape, the female body has ways to try to shut that whole thing down..." Explanation
COAL FIRE OBAMA Explanaton
Get Republicans Elected Every November Explanation
Karl Rove's breakdown. Explanation
YES WE CAN! Explanation
Chris Matthews gets a thrill up his leg when listening to Obama's speeches.
Harry Reid on Obama: He's a light-skinned black man with no black dialect.
Much like the Tea Party movement, the shenanigans of, and responses to, the Occupy movement have spawned a lot of these.

"It's just food product, essentially." Explanation
I am a troper. I joined this website because I didn't know what it was. Every post I make is deleted or will get me edit-banned, even if I'm right. I am not among the tropers who are well-known. I am the 99%. Explanation
OCCUPY TV TROPES Explanation

Michele Bachmann:
Mr. Speaker, I ask unanimous consent to revise and extend my comments on this flawed politics meme.
Anthony Weiner:
"I represent the Rent Is Too Damm High Party... My main job is too provide a roof over your head, food on your table, and money in your pocket."
Thanks to Alvin Greene, we now know that Jim DeMint started the recession.
Christine O'Donnell:
Rick Perry:

Today, Rick Perry shot a coyote to death on his morning jog.
Rick Perry also executed 234 inmates. And he gets applause for it.
If elected President, Rick Perry will save money by eliminating the Departments of Education, Commerce, and... um... I can't [remember]. The third one, I can't. Sorry. Oops.Explanation
Rick Perry's Unpopular Opinions. The fact that he appears to be wearing the exact same coat as Heath Ledger's character in Brokeback Mountain in an ad where he speaks negatively of homosexuality has also not gone unnoticed.
Ronald Raven.Explanation

And the winner of the Alaska election is Lisa Mulkowsky... Murbrowlsky... Murkrowski... Mullberrski... Markowski... Mellelski... Murkowski.
Latte salute.
---