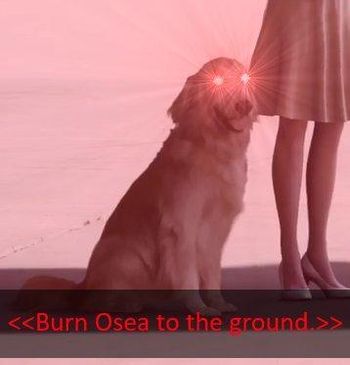 Ace Combat 7: Skies Unknown
has so many memes compared to the other
Ace Combat
games that it needs its own page.
Please add entries in the following format if possible:
The meme. [[labelnote:Explanation]]The explanation behind the meme, if necessary.[[/labelnote]] Explanation

Like this.

Further mutations and successor memes, if any.
---
"Ace Combat 7: Date Unknown"Explanation The game's title was sometimes referred to as such, with no official release date announced for over two and a half years after the game's unveiling near the end of 2015. It took until August 2018 to set the date as January 18, 2019 by Gamescom, with a Steam release on February 1, 2019.

""Please understand◊"Explanation A Nintendo meme associated with Iwata preceding statements the audience won't like, instead used to accompany a particular picture of series producer Kazutoki Kono. Related to the above, this became a minor meme among the fandom after Kono apologized in advance for Ace Combat 7 being a no-show at E3 2016.

"Yet, what is a nation?"Explanation Fans have taken a liking to juxtaposing Mihaly's rhetorical question with Detlef "Red Swallow" Fleisher's description of what constitutes a country.
Three days after declaring war.Explanation

It's also common to make macros with screenshots of Rosa Cossette D'Elise, especially one that presents her as prim and proper at the start of the Osea-Erusea conflict, then looking disheveled in the next while the text claims it's been three days into the war, even though there was no clear timeline of the events pre-release. Turns out it's closer to three months... but she's first seen in her bedraggled state after having her plane shot down and surviving in the wreckage for — you guessed it — three days.

"Can you hear me?" Explanation The repeated use of the phrase from the Gamescom 2018 trailer has been seen as this game's equivalent to "Go dance with the angels." Thankfully, said Arc Words are only sporadically used within the story, and nowhere as obnoxious as 6's Catchphrase.
Mihaly's absurdly long real name. Explanation As Mihaly has descended from nobility, his full title has many, many names, which has become a source of amusement. It's

Mihaly Dumitru Margareta Corneliu Leopold Blanca Karol Aeon Ignatius Raphael Maria Niketas Archange Shilage

.
Pedophile Schroeder Explanation

Dr. Schroeder is "fascinated" by the granddaughters of Mihaly, who are respectively 15 (Ionela) and 10 (Alma). It didn't take long for fans to deliberately twist the meaning of Schroeder's words during his narration about the Shilage Sisters.

Belka did it. Explanation Anyone who has been up to date with the series' plot will point out that someone of Belkan background probably manipulated Osean and Erusean leaders to go to war somehow. Amusingly enough, it's turned into an in-universe stereotype for Belkans at this point.

It once again resurged as this turned out to be the case in the game, with the Eruseans using Belkan A.I. technology to develop their drone squadrons and then employing them to regain their lost glory, with Dr. Schroeder — a Belkan and the person who's tasked with gathering flight data from the top ace Mihaly — being the one who spearheaded the project.

The JPEG Dog. Explanation One cutscene features a happy-looking Golden Retriever alongside a couple of main characters. Doesn't sound like anything noteworthy aside from the fact that said dog isn't actually a 3D model, but a video of a dog sitting very still, with a heat haze barely masking the fact that it's just juxtaposed onto the scene. Twitter had a field day with this, though the memes quickly stopped once it was revealed that the dog was included because it had passed away.
"SOLITARY!"Explanation Col. McKinsey and AWACS Bandog of the 444th Squadron penal unit often threaten their troops with solitary confinement as punishment, to the point of essentially becoming a Catchphrase for both of them. The imagery of either of them threatening "Solitary" is invoked whenever the word is included in dialogue, or using the threat of solitary to respond to a snarky question/comment. It is also occasionally used in response to an innuendo.
Bandog did nothing wrong. Explanation (Spoilers!) A variant of the series-wide "Belka did nothing wrong" meme, used in reference to Bandog's

allegedly-accidental tagging of Full Band as an enemy during Mission 9, leading to Spare 6's death

. Whereas the original is often said in a joking matter, this one is usually the opposite; the circumstances behind Bandog's actions (as explained in Alternative Character Interpretation above) are believed to be the "right" choice (or at least a justifiable one) by a not insignificant percentage of the fandom.

AWACS Bandog wants to know your location.Explanation (Spoilers!) A general meme that infers a powerful person/organization becoming angered at another person and planning to hurt them, or at least interested in something they've brought up. In regards to the above, the phrase loosely references Bandog's actions in mission 9, in which Bandog

gets fed up with Full Band being careless with classified information and implicitly offs him by tagging him as an enemy

.

"Missile Missile Missile Missile Missile Missile Missile Missile" Explanation As a result of incredibly persistent multiplayer missiles, players get nearly non-stop missile warnings. Even the single-player campaign contributes, as the A.I. enemies are much more aggressive than in past games, but without the Level 2 multiplayer-only parts, it's easier to get a break from all the missile warnings.
"Ace Combat: Game of Thrones Edition" Explanation Due to the nature of how Anyone Can Die in this game, with a total of at least ten named character deaths, the game has earned the nickname from some fans.
Post Stall Maneuver challenge. Explanation A new mechanic of this game allows a player who's flying a highly-agile plane such as the Su(khoi) series or F-22 to perform a limited number of post stall maneuvers, namely the Pugachev's Cobra and the Kulbit. Needless to say, many players have attempted and recorded videos of them performing these maneuvers in increasingly dangerous places, such as in an enclosed stadium or inside an underground tunnel and the space elevator. It didn't stop there, with players defying the laws of physics to continuously post stall maneuver their way through what is essentially the plane-equivalent of drifting.
TRIGGERED. Explanation The protagonist of this game has the callsign Trigger. This doubled with the Reference Overdosed nature of the story leads to jokes that characters from previous games in the series will be "triggered" by events that transpired in this game. Here is one such example. (Spoiler warning!)
Arguing over who's the better waifu Explanation Gamers love to discuss who the best is from Cossette, Avril, Brownie, Húxiān, McOnie, or Scream. Occasionally, people will instead name their favorite planes, like so. Expect jokes about fan game Project Wingman's female WSO as well.
Jaeger can't wait to tell his son about this. Explanation Jaeger frequently mentions that he has a good story to tell his son after the war is over, in regards to the missions the LRSSG is assigned to. It's become something of a snowclone due to how many times he's said variations of it.
Lanza and his big maze. Explanation

Lanza has a tendency to randomly shout "It's a big maze!" even when the situation doesn't call for it, making for an amusing moment when he says that sentence in the middle of a completely open map.

"Define crazy" Explanation David North's digital assistant Alex asks him to "Define crazy" when David consults the A.I., while he's watching an OBC breaking news story in the DLC trailers. Viewers responded by spouting off anything that's crazy for a pilot to do, even by Ace Combat standards.
The Hunt for the Alicorn Explanation Because the three DLC missions of the Seasonal Pass focus on a renegade super-submarine captain who intends to start a nuclear war, fans were quick to make comparisons to The Hunt for Red October, one even making a poster parodying the movie's own promotional poster.
Matias Torres and his CRISP! WHITE! SHEETS!! Explanation Torres's minor Villainous Breakdown after Trigger managed to stop Torres's fighter squadron from carrying out his first plan has him angrily declaring that Trigger "walked all over the crisp, white, bedsheets that [he] had just made" with "his dirty boots." Fans became pretty enamored with this one line because of how over-the-top it sounds.
"Do it with a bang!" Explanation Skald's Catchphrase during "Unexpected Visitor." Even when Húxiān tells him to shut up and keep fighting instead of whining about the overwhelming odds, all Skald can say is that catchphrase.
Rage & Scream are the Calypso Twins. Explanation Fans have noticed that Rage and Scream, the two rival aces for the DLC missions, bear a resemblance◊ to the antagonists of Borderlands 3, as they are both villainous Brother-Sister Teams that showcase violent and psychotic tendencies.
Listen to the briefings! Explanation When Ace Combat 7 was released, many players new to the franchise skipped the briefings, making them miss crucial intel to beat certain missions, like Mission 7, which foreshadows

Mihaly

and the drones by explicitly telling the player to bring AA weaponry. This resulted in many players struggling by, for example, bringing an A-10 Warthog to a dogfight and losing to

Mihaly

or bringing air-to-ground weaponry where the game explicitly warns about air-to-air combat because they didn't pay close attention to the briefing. This became standard advice many veterans gave during the first months of the game, and over time it became a meme for criticizing new players and critics unaware on how the games work. Became an Ascended Meme during Special Mission 1, where shooting the Alicorn has your commander yelling at you for not listening to the briefing, triggering a Non Standard Game Over.
GrundergramExplaination Reddit posts that depict the cast of Ace Combat if they used social media like in our world, in this case Instagram. Thanks to these posts found on r/acecombat, fans have latched on to the headcanon characterization of Trigger as a Memetic Badass and Chick Magnet who has a harem of women.
Z.O.E and Nemo Explaination While there have been theories that Z.O.E (a major recurring antagonist in AC2 and its remake) is somehow related to Nemo (the protagonist of Electrosphere), the usage of drones and their capabilities (complete with the Final Bosses sporting the Zone of Endless emblem) all but confirms the theory and the fandom accepts that Nemo is the latest descendant of Z.O.E. Since Nemo obviously isn't born yet until 20 years later, a few fanfics popped up about how the humans would interact with Nemo if they met it.
"Shit, my cola..." Explanation During the debriefing for "Anchorhead Raid", Húxiān angrily confronts Brigadier General Clemens after it's revealed that he had been in contact with Mimic Squadron. The resulting scuffle causes Lanza to spill the soda he was drinking, resulting in this line. Several players have come to list the spilling of Lanza's soda as another of Clemens' crimes against the LRSSG, humorously considering it as heinous if not moreso than hiring Mimic to murder Trigger.
AVE BELKA Explanation One of the soundtracks for "Ten Million Relief Plan", was leaked by a dataminer two months before it was released under the title of "AVE BELKA" to avoid spoilers. Some fans took the working title to signal a possible Belkan connection with the narrative of the SP Missions, particularly as one of the Ominous Latin Chanting lyrics in the track was a mondegreen saying the leaked track's alleged title. Ultimately, the Belkans have no role or presence in any of the SP Missions, and the track's actual title is simply "Alicorn".

L IS REALExplanation After 24 years, people digging through Super Mario 64 discovered actual data to compile to prove that Luigi existed in the game's code. As one user sent the data through a model creator to finally bring about the existence of "The Holy One", 4Chan started freaking out, saying how they know not the destruction they would release on this world, and that if Nintendo found out, it'd bring about the apocalypse. A video started circulating around the internet of the numerous posts compiled together leading to the official reveal of an extremely crude but official model of Luigi, all the while the "Alicorn" music from "Ten Million Relief Plan" section 2 set the mood.

NOSFERATU IS THICCExplanation In an interview, Kono admitted that the development team initially had trouble implementing the CFA-44 into the game because its whopping size of 25 meters in length (most heavy fighter planes are around 20 meters long on average) meant that the CFA-44 couldn't actually fit in the in-game hangar. This immediately let to fans making jokes about the CFA-44's size.
"That's right. I'm Belkan, born and raised." Explanation A quote from

Dr. Schroeder

mainly used for scenarios where one successfully gets away with pitting people against each other, in reference to Belkans' reputation of doing the same with other countries.
Everyone acts gangsta until the water starts speaking Latin. Explanation A memetic phrase that Max0r uses in "An Incorrect Summary of Ace Combat 7", noting that dramatic moments like the fight against the Alicorn are underscored by the soundtrack's use of Latin vocals. He also lampshades this when he gets to Mission 15, where the clouds are instead heralding Sol Squadron with Latin music, and Mission 18, where you fight Mihaly.
Trigger is a furry.Explanation

Trigger's insignia is some kind of canid (though unlikely, it could be a thylacinid or a mesonychid), presumably a wolf or fox, which has brought the occassional joke about him being part of the furry fandom.

Taking the hit in a non-critical area.Explanation If you take a missile from Mihaly in Mission 7, "First Contact", Mihaly explains to his squadmate that Trigger survived the hit by taking it in a "non-critical area", becoming one of plenty official explanations for how aircraft in this series are somehow capable of taking more than a few direct missiles (especially the player's). This claim caused strain on the fanbase's Willing Suspension of Disbelief, as any knowledge about planes will show the notion of a "non-critical area" on aircraft as absurd. Discussions about planes surviving serious damage illicit this response as a mock-suggestion for how aircraft should or did.

Flying in a way that minimizes the damage.Explanation (Spoilers!) In Mission 15, "Battle for Farbanti", hitting Mihaly with several missiles causes Count to exclaim this to account for how Mihaly is able to tank so many hits despite flying the lightweight Su-30. Similar to the above, it's a brief excuse for how scripted his fight is and seen as a series-wide explanation for how story-important aces can tank several hits without much hinderance. It's jokingly referenced for being just as absurd.

BELKAN WITCHCRAFT.Explanation (Spoilers!) Erusean General Labarthe and

hardline figure for the Conservative faction of Erusea

describes the advancements of Gründer's drone technology by comparing it to "magic or alchemy". Later, it's shown to be a rather widespread understanding of such technology, with enemies attacking

the transport carrying Dr. Schroeder and Mihaly's granddaughters

for engaging in "Belkan witchcraft". The phrase has since become a Running Gag amongst Ace Combat fans when explaining anything to do with the more logic-defying aspects of the series, in response to breaking parts of Ace Combat 7, or whenever drones and bizarre moments with aircraft from other media (or even real life) are discussed.
"Look at this photograph." Explanation Due to Count's resemblance to Chad Kreoger of Nickelback, Nickleback-related shitposts, especially that of the "Photograph" music video, are a frequent sight on the Ace Combat subreddit.
---