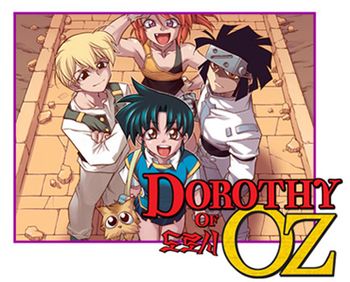 Dorothy Of Oz is a manhwa by Son Hee-Joon (creator of PHD: Phantasy Degree) originally published by Haksanpub and translated into English by UDON.
The story is about an ordinary 16 year old girl named Mara Shin who follows her dog Toto into a science-fantasy realm called "Oz". During her journey to return to her world, she meets up with Abee (Codename: Scarecrow), Namu (Codename: Tin Woodsman), and Tail (Codename: Cowardly Lion), and follows a mysterious Yellow Brick Road (Only she can see it) that may hold the key to the path home.
If you can't tell already, it is a Korean take on the classic tale of The Wonderful Wizard of Oz.
---
Dorothy Of Oz has examples of:
---