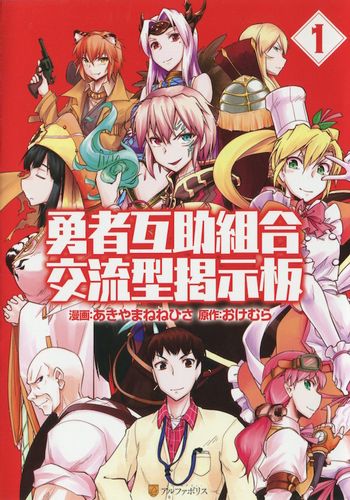 Yuusha Gojo Kumiai Kouryuugata Keijiban, which roughly translates to Hero Cooperation Union Exchange Bulletin Board (or Hero Union BBS for short), is a rather unique web novel by Okemura, later adapted into a light novel and manga published by Alphapolis. It is best described as "Reddit/4chan meets every action/adventure fantasy manga in existence."
All of the stories take place within a multiverse with innumerable parallel worlds, each inhabited by a band of super-powered heroes. In order to provide much-needed assistance to the heroes of each realm, an inter-dimensional non profit organisation known as the Hero Union is established, dedicated to making sure that the exploits of heroes go smoothly and that summoned heroes can easily transition into their new lives and back to normal once their adventures are over.
Each chapter follows a different thread on the eponymous Message Board, usually involving retired heroes discussing their exploits or active heroes asking for advice on how to deal with strange occurrences in their world. The stories are not just limited to kids Trapped in Another World asking about what they should do, but how to deal with an extra hero accidentally getting summoned to a world that already had a destined hero born into it, or a twenty-something university student coping with being a Magical Girl in a universe where the concept happens to be just as silly as it would be in real life.
All stories are connected by the presence of the Troll-like Student, a rather Genre Savvy but also somewhat annoying retired hero.
The web novel version can be found here
. The light novel is illustrated by KASEN and is complete at 3 volumes. The manga adaptation is by Akiyama Nenehisa, and is complete at 28 chapters.
---
This work contains examples of:
---