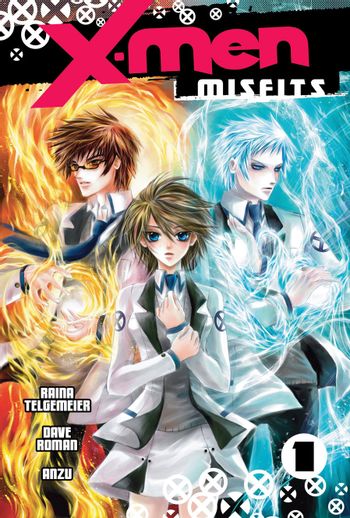 X-Men: Misfits is an OEL Manga and a reimagining of Marvel's X-Men universe. The manga was written by Dave Roman and Raina Telgemeier, featuring art by Anzu. Published in 2009, it is owned by both Del Rey Manga and Marvel. The plot revolves around Kitty Pryde adjusting to her own mutation and new school specifically created for mutants, Xavier's Academy for Gifted Youngsters. But there's a twist- she's the only girl at the school.
Of course, this leads to Kitty being the subject of much male attention, and she struggles to find her place until she is invited to join a group of elite students, the Hellfire Club, and learns to reconcile with her mutation.
The sequel manga was cancelled due to licensing issues.
---
This manga contains examples of:
---