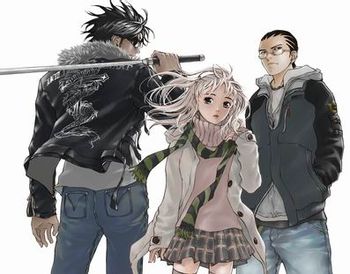 Until Death Do Us Part (Shi ga Futari o Wakatsu Made) is a seinen science fiction manga by Hiroshi Takashige which ran in Young Gangan from 2005 to 2015. It follows the story of a young prognosticator who is being pursued and the blind swordsman she asks to protect her.
The twelve-year-old clairvoyant, Haruka Tooyama, has been made a target for less-than-scrupulous corporations, gangs, and orgnaizations, thanks to the sheer accuracy of her powers. When one such group murders her parents and kidnaps her, despite her best efforts, she uses her sight to seek out the one person who has the capability to help her: a blind man walking through the crowded streets of Tokyo.
Said blind man, Mamoru Hijikata, had just been taking a walk whilst running a test on echolocation shades when Haruka suddenly asks him to help her, without saying how, and pulls him to an empty lot. Knowing what her powers are attracting, she gets across just how serious she is, and seeing that she's being pursued by Yakuza, Mamoru accepts. The eye-opener is what she says next: "The contract will last 'Until Death Do Us Part.'"
Odd as it would appear, Haruka's powers have not failed her: the blind Mamoru Hijikata is a master of Kenjitsu, which becomes apparent when he draws a sword from his white cane and expertly takes out her pursuers. Since the situation won't be resolved that easily, Mamoru continues to protect her, along with Igawa, a Gadgeteer Genius, and other affiliates of their employer, the mysterious vigilante organization known only as the Element Network.
Not to be confused with the '60s British sitcom 'Til Death Us Do Part, which spawned the US adaptation All in the Family.
---
This series provides examples of:
---