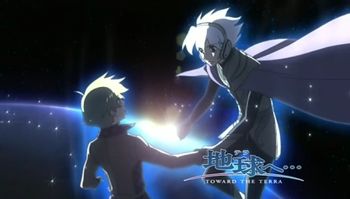 "Sleeping lions deep in space.
Awaken to the far reaches of eternal time.
Awaken, go beyond the billions of shining stars, and come to Terra."
In a distant future, humankind has destroyed the natural habitat of its homeplanet Terra and colonized other stars. Humanity is controlled by supercomputers, and children are born in test tubes and then handed to suitable foster parents. All children go through a psychological maturity check at the age of 14, where their unnecessary childhood memories are erased. The children, now blank slates for propaganda and brainwashing, are taken to space stations for further education.
However, a new race of psychic humans have emerged from the maturity checks; they are called the Mu and and are considered a threat to the strictly controlled society. The Mu stay hidden, trying to rescue as many Mu children as they can, while they long to return to the fabled homeplanet Terra. The Mu have physical defects and are weak compared to normal humans, to balance out their extraordinary superpowers.
Toward the Terra, also known as Terra e... or To Terra..., was created by mangaka Keiko Takemiya, and was originally serialized in Gekkan Manga Shonen from 1977 to 1980. It was first adapted for animation as a 1980 film. In 2007 the manga was adapted again, this time as a 24-episode anime series. Thus far, the tropes listed on this article mostly concern the anime version, as the manga, anime and movie all have large differences in plot details and characterisation.
Toward the Terra is a Space Opera of epic proportions, covering approximately five decades worth of events. It's an old school sci-fi series with complex Character Development, starting slow but gradually building its story to an extremely emotional ride through the galaxy.
Now has a character sheet
.
---
Toward the Terra provides examples of:
---