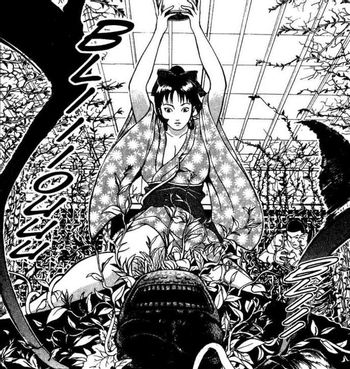 Tajikarao (たぢからお) is a four-volume Manga series by Mori Jinpachi and Yoshikai Kanji.
In Kyushu, the aging population of a small, isolated village named Yamagami still practices a traditional agrarian lifestyle and engages in old Shinto rituals. One day a villager who had gone to the city comes back with yakuzas on his trail. The inhabitants are faced with a drastic choice: either they sell their lands to pay off the villager's debts to the Mob, or they stand and fight.
They seek advice from the local wise woman, who, in a trance, sees two youths from the city defending the village. At the same time, two young people from Tokyo who had lost their way chance into the village. One of them readily takes to rural life and decides to stay, while the other is more reluctant; however, it turns out that he's a suitable recipient for the god Tajikarao to manifest in, thus holding the village's fate in his hands.
---
Contains examples of:
---