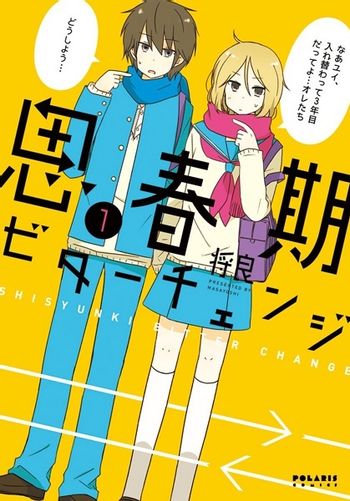 Yuuta and Yui, two elementary school students, suddenly have their bodies swapped after Yuuta falls out of a tree! What will happen to them as they grow up?
Shishunki Bitter Change is a Gender Bender manga by Masayoshi that starts off with a fairly typical premise: boy falls out of tree onto girl, they switch bodies. What differentiates it from other, similar manga, is that the situation is much more long-term. They go years without switching back, and Yuuta and Yui have to settle in to their new lives in each other's homes.
The ramifications of spending many years as someone else are shown, as the series follows Yuuta and Yui all the way through high school. It's a prime example of Gender Bender Angst where there are no wacky hijinks associated with the swap, and the change takes an emotional toll. Still, over time, the two settle into their new roles, but they wonder if they will ever return to their old lives, and after so much time, are their lives even their own anymore?
The manga was based off of the four part web manga Change, also made by Masayoshi, which was released throughout 2012-2013. It was later uploaded onto Masayoshi's Pixiv account as a 21-part series. A What If? manga following Yui and Yuuta if they hadn't switched, Change, Shitenai, was sold as two independent manga volumes from 2013 to 2015 before both volumes were compiled online.
---
Shishunki Bitter Change provides examples of:
---